Renshaw's Raspberry and White Chocolate Cupcakes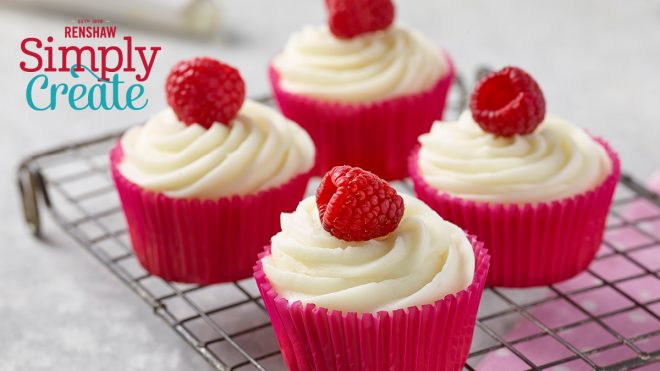 12 servings
1 hour to prepare
Ingredients
For the cakes
65g unsalted butter
100g caster sugar
1 egg
1tsp vanilla extract
115g plain flour
60ml milk
1tsp baking powder
To decorate
400g Renshaw's Simply Create White Chocolate Frosting
Fresh raspberries
Instructions
Renshaw's have created this beautiful white chocolate and raspberry cupcake recipe to showcase their fabulous Simply Create cake decorating range. You'll need a piping bag for this one, otherwise you can simply spread the frosting atop the cupcakes.
For the cakes
Preheat the oven to 180C/350F/gas mark 4. Line a cupcake tray with 12 paper cases.
In a bowl, cream the butter and sugar until light and fluffy. Add the egg and mix well, then add the vanilla extract.
Add the flour, baking powder and milk. Beat until smooth.
Divide the mixture between the cases, filling approximately two thirds full.
Bake for 20-25 minutes, or until the cupcakes spring back when pressed. Remove from the oven and place on a wire rack to cool.
To decorate
To soften, mix the frosting in the tub using a spoon.
Snip off the narrow end of a piping bag and push the nozzle down to the bottom of the bag. Holding the bag with one hand, fold a 3-4 inch cuff.
Scoop the frosting into the bag and fill up to halfway, pressing it down in the bag to expel any air. Twist the bag at the top to secure.
To decorate, start piping from the outside edge of the cupcake, using a spiralling motion inwards until fully covered.
Decorate with a raspberry or topping of your choice.
Chefs Tip
Try practising your piping on a plate first to get the perfect swirl!