Fruit Salad Zabaglione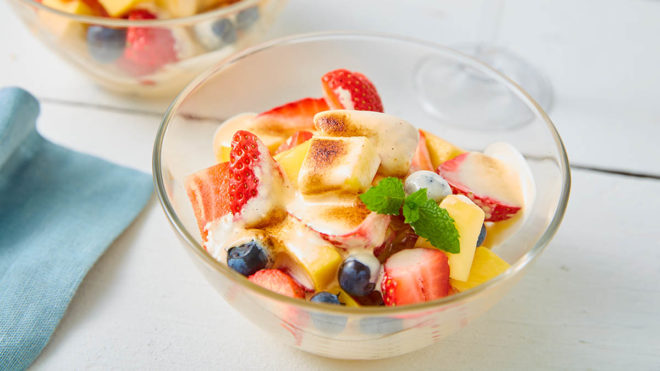 4 servings
30 mins to prepare
Ingredients
250g strawberries, cut into halves
250g diced mango
50g blueberries
8 medium egg yolks
130g sugar
1 tsp vanilla extract
100ml Marsala wine
Instructions
METHOD
1 Divide the fruit into four oven proof glass bowls.
2 Place the eggs yolks, sugar, vanilla and Marsala wine into a heatproof bowl and whisk together.
3 Bring a pan of water to the boil and then reduce to a simmer. Place the bowl over the heat and whisk continuously for 15 minutes until the mixture more than doubles in size. Use an electric whisk if possible.
4 Generously spoon the mixture over the top of the fruit salads.
5 Using a cooks torch, torch the zabaglione lightly all over. If you do not have a cooks torch, place under a pre-heated grill for a minute or until it starts to lightly brown.
CHEF'S TIP: Serve with a chilled glass of Italian muscat dessert wine.