Rose and Pistachio Madeleines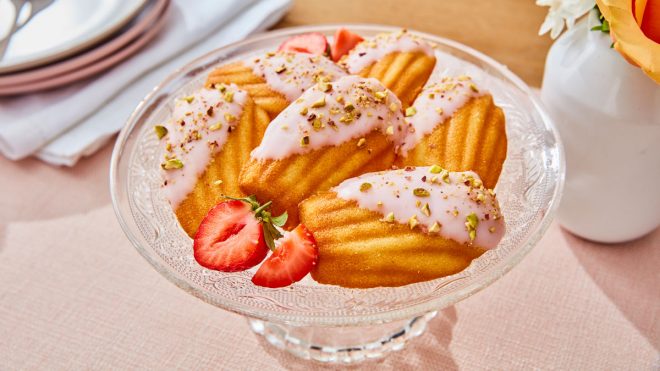 12 servings
20 mins to prepare
Ingredients
For the madeleines
75g caster sugar
2 eggs
1 tsp rose extract
75g self raising flour
75g butter, melted
A little melted butter to grease
To decorate
100g icing sugar
1 tsp rose extract
Pink food colouring
1 tbsp pistachio nuts, finely chopped
Instructions
METHOD:
Pre-heat the oven to 160°C (fan)/ 180°C/gas mark 4.
To make the madeleines, whisk the sugar and eggs in a bowl. Add the rose extract, flour and melted butter and mix well.
Lightly brush a 12 mould madeleine tin with melted butter. Divide the mix between the madeleine moulds and bake in a pre-heated oven for 10 minutes or until lightly golden in colour.
Remove and allow to cool in the tin completely. Once cooled, remove and place on a cooling rack.
To decorate, place the icing sugar into a bowl, add one tablespoon of boiling water and mix well. Add the rose extract and a few drops of pink food colouring, mix well.
Dip each madeleine into the icing then decorate with chopped pistachio nuts.
Allow the icing to set before placing onto a serving platter to enjoy.