The Boho Baker's Chocolate Fudge Bundt Cake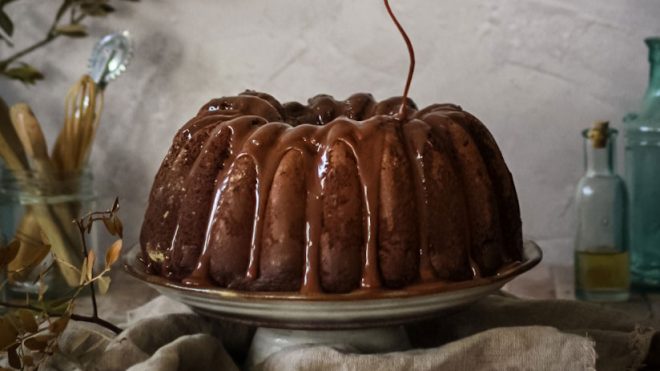 8 servings
25 mins to prepare
Ingredients
225g unsalted butter
65g cocoa powder
225ml brewed black coffee
400g caster sugar
245g self raising flour
125g soured cream
2 medium eggs
2 tsps vanilla extract
1 tsp baking pwder
Pinch of salt
For the ganache
150g milk chocolate, chopped
90ml double cream
1 tsp runny honey
Extras
A little butter and flour to prepare the bundt tin
Instructions
METHOD:
1) Preheat the oven to 180°C/160°C (fan)/gas mark 4. Grease the bundt tin with the butter and sprinkle with flour.
2) Place the coffee, butter, and cocoa in a small pan. Gently heat, whisking until well combined. Leave to cool.
3) In a separate bowl, mix together the sugar, flour, baking powder and salt. Fold in the chocolate mixture.
4) Whisk together the eggs, vanilla, and soured cream. Add to the chocolate mixture and stir until a smooth batter has formed.
5) Transfer the batter to the bundt tin. Bake in the oven for 45-60 minutes, or until a skewer inserted into the cake comes out clean. Leave to cool on a wire rack.
6) Pop the chopped chocolate and double cream into a glass/heatproof bowl and heat over a pan of simmering water. When the chocolate has fully melted into the cream, remove the bowl from the pan and stir in the honey.
7) Drizzle the ganache over the bundt cake. Serve with a big dollop of ice cream.