Strawberries with Black Olive Balsamic Caramel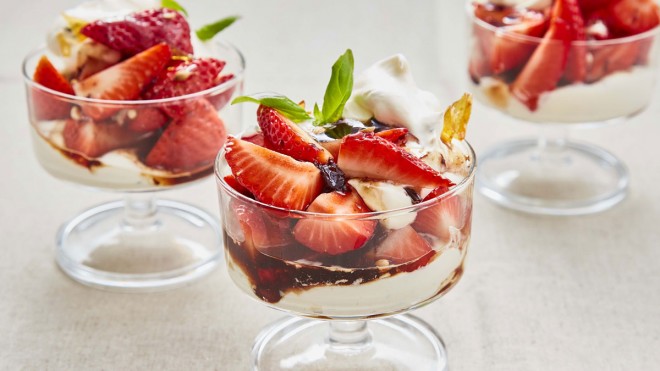 4 servings
20 minutes to prepare
Ingredients
200g strawberries, hulled
100g sugar
200ml water
100ml balsamic vinegar
10 black olives, pureed in a blender with a little water
1tsp coriander seeds
To serve
100ml lightly whipped double cream
1tbsp shredded basil
Instructions
This unusual sweet-savoury-salty combination is an alternative to the usual strawberries and cream that really works!
Method
Place the sugar and 100ml water in a small saucepan and boil over a medium heat until it begins to caramelise and turn golden (if you have a sugar thermometer this is when the sugar syrup reaches 170°C).
Immediately add the balsamic vinegar and remaining water and continue to heat whilst the caramelised sugar dissolves. Simmer until the mixture becomes syrupy and remove from the heat, stir in the olive puree.
Mix the shredded basil into the whipped cream.
Divide the strawberries between 4 serving glasses with a dollop of whipped basil cream, drizzle over the caramel mixture, evenly dot over the coriander seeds.