Black Pepper Strawberry Shortbread Sandwich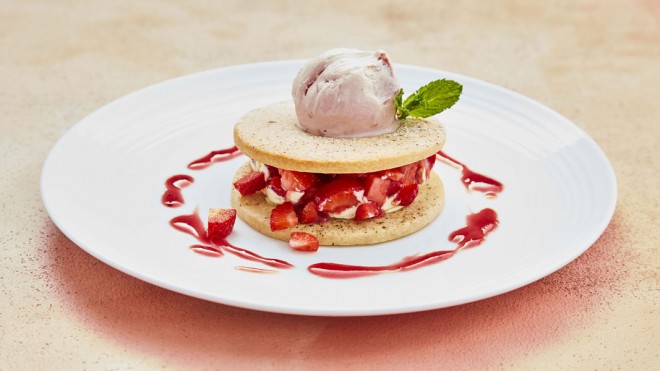 4 servings
1 hour to prepare
Ingredients
100g butter
100g flour
55g icing sugar
1 egg yolk
1/4tsp black pepper
200ml double cream
25g caster sugar
Juice and zest of 1/2 lemon
150g strawberries, hulled and chopped
1tbsp strawberry sauce
Instructions
You can top your sandwiches with our strawberry meringue ice cream, find the recipe here, or any ice cream of your choice.
Method
Blend the flour, butter, icing sugar, pepper and egg yolk in a food processor until it forms a dough, adding a tablespoon of water if needed.
Roll out between two sheets of baking paper to the thickness of a pound coin. Place in a fridge to firm for 30 minutes.
Use a large ring cutter to cut into 8 rounds, re-rolling any excess trim if required. Space evenly on a non-stick baking sheet and bake at 180°C / 350°F / gas mark 4 for 8-10 minutes until just starting to colour. Remove from the oven and allow to cool on the tray.
For the filling, stir the strawberries together with the strawberry sauce.
In a separate bowl whisk the cream and sugar together until forming soft peaks, then whisk in the lemon zest and juice.
To assemble, place a shortbread in the center of each plate, add a dollop of the whipped cream and some of the strawberries, carefully place another shortbread on top and finish with a scoop of strawberry meringue ice cream.