The Boho Baker's Fully Loaded Griddle Waffles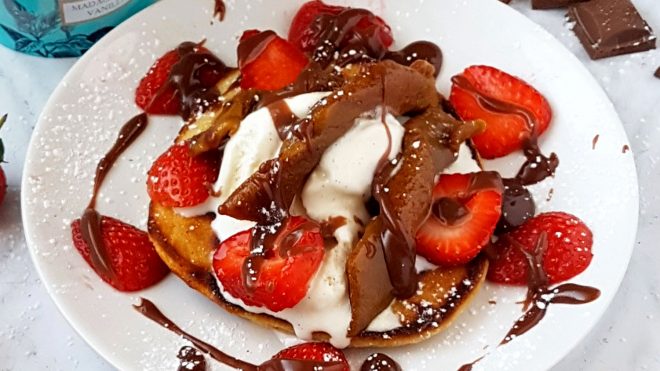 4 servings
30 minutes to cook, 30 minutes to prepare
Ingredients
2 eggs
300ml milk
225g Booths self-raising flour
2tsp baking powder
100g butter
Pinch salt
For the Honeycomb Twists
100g golden caster sugar
5tbsp golden syrup
2tsp bicarbonate soda
For the Chocolate Caramel Sauce
100g caramel filled chocolate
50ml double cream
To Serve
1 punnet strawberries
Vanilla Ice Cream
Instructions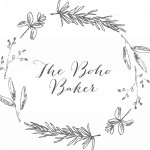 The Boho Baker describes herself as "Baker. Writer. Forager. Wanderer. Organic ingredient and edible floral Enthusiast. Member of the Guild of Food Writers." Very local to our HQ in Preston, she's kindly agreed to do a series of recipes for us, celebrating the best of our local produce. Follow her on instagram @thebohobaker.
These fluffy waffles, topped with an abundance of delicious goodies, are simple to make and can be cooked without a waffle iron, in a regular griddle pan. With strawberries, ice cream, chocolate caramel sauce, and crunchy honeycomb twists, there is no doubt that these waffles really are "fully loaded".
Method:
Start by making the honeycomb twists. Combine the sugar and golden syrup in a pan (it helps to oil your spoon first) and gently heat until it reaches a medium caramel colour. Remove the pan from the heat, add the bicarbonate of soda, and quickly stir until any frothing has subsided. Pour over a baking sheet lined with greaseproof paper and leave to set for twenty minutes. Please note that the goal is to produce a softer honeycomb that is still pliable and can be moulded into twists after cooling a little. If you heat the sugar and syrup mixture for too long then this will produce regular, crunchy honeycomb (which is certainly no bad thing, it will just mean you cannot twist it after setting).
Whilst your honeycomb is setting, it's time to get started on the griddle waffles. Whisk together the eggs and the milk until well combined, and then sift in the flour, baking powder and pinch of salt. Continue to whisk gently until it resembles a pancake batter. Melt the butter in a microwave on a low heat, leave to cool for a couple of minutes, and then gently fold into the waffle batter.
Add a knob of butter to your griddle pan and place over a high heat. Ladle in some waffle batter and then reduce the heat to medium-low. Cook for five minutes on each side, or until golden and fluffy. These waffles will puff up quite substantially and are ready when both sides look crisp and crunchy. Set the waffles aside until you are ready to serve.
Take a sharp knife and carefully slice the honeycomb into slim strips. Gently twist into spirals and set aside. If your honeycomb and set hard then do not worry: simply break it up into small pieces to scatter over your dish.
Pour 30ml of the double cream into a saucepan and bring to the boil. Reduce the heat and the add the caramel chocolate, broken up into squares. Gently stir until the chocolate, caramel and cream have combined. If the sauce seems too thick for your liking, keep adding cream a spoonful at a time from the remaining 20ml until it reaches your desired consistency.
Chop the strawberries into thin slices. Place the griddle waffles on a plate and top with the strawberries, honeycomb, chocolate caramel sauce, and a scoop of vanilla ice cream.
Hints/Tips/Troubleshooting:
The honeycomb spirals can be made a day before and kept in an airtight container until serving.
If you're feeling particularly brave, you can pour all of the batter into the griddle pan and make one giant waffle! It's a little more difficult to flip over, but results in a "tear and share" style dessert that kids will love.
If you don't have much of a sweet tooth, these waffles are also delicious served with eggs and bacon as a savoury breakfast dish.