Vegeree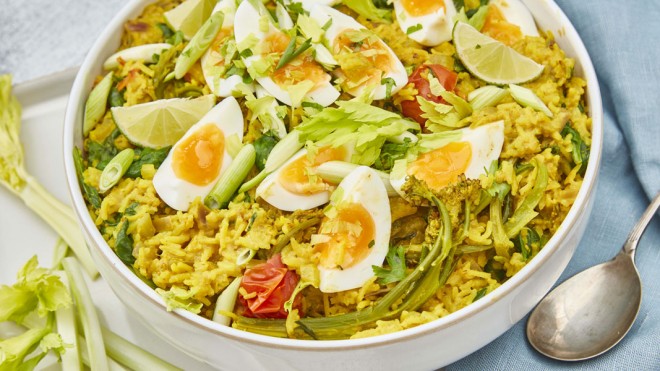 4 servings
10 minutes to prepare
Ingredients
A drizzle of olive oil
1 red onion, diced
2 sticks celery, diced
2tsp gorund tumeric
1tsp mild curry powder
300g basmati rice
800ml vegetable stock
100g spinach leaves
200g cherry tomatoes
200g puple sprouting broccoli, halved
4 eggs
3tbsp yoghurt
Salt & pepper
10g leaf parsley, roughly chopped
2 spring onions, sliced
4 lime wedges to garnish
Instructions
A vegtarian twist on a classic, perfect for using up leftover veg in the bottom of the fridge.
Drizzle the olive oil into a high sided frying pan or large saucepan and heat over a medium heat.
Add the diced onion and celery and sauté for 5 minutes.
Add the turmeric and curry powder, cook for 1 minute.
Add the rice and stir to evenly coat the grains in the spices.
Add the vegetable stock, bring to the boil then reduce to a simmer. Simmer, covered for 8 minutes stirring occasionally. If the pan starts to dry out add a little more stock or water. After 8 minutes, add the spinach, cherry tomatoes and purple sprouting broccoli. Replace the lid and cook for a further 5 minutes. Test the rice is cooked but still with a little bite and set to one side.
Place the eggs in a pan of cold water and cook over a medium heat for 10 minutes. Plunge the eggs into a bowl of cold water.
Add the yoghurt to the vegeree, season and stir through the chopped flat leaf parsley.
Peel the eggs and slice into quarters.
Spoon the vegeree into warm serving bowls and garnish with the egg quarters, sliced spring onions and a wedge of lime.
Chefs Tip
Swap and change the vegetables used to really make this recipe your own.