Easter Chelsea Buns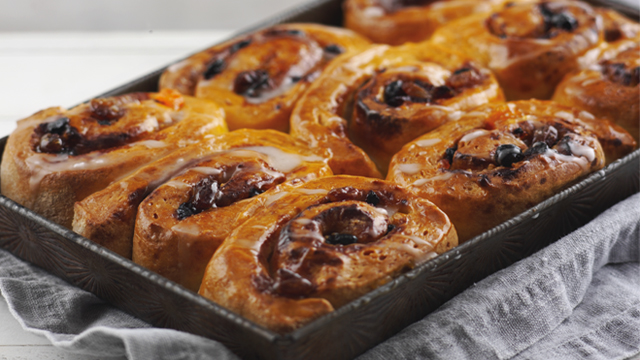 9 servings
3 hours to prepare
Ingredients
500g strong white flour
1tsp salt
1x7g sachet fast action yeast
300ml semi skimmed milk
75g unsalted butter
1 medium egg
75g soft brown sugar
2tsp ground cinnamon
150g mixed dried fruit
Zest of 1 lemon
2tbsp apricot jam
For the Icing
3tbsp icing sugar
Juice of 1/2 lemon
Instructions
Take a large mixing bowl and sieve the flour, salt and yeast into the bowl. Add 40g of the butter and the milk into a small saucepan then gently heat until the butter has melted and the milk is lukewarm (make sure the milk does not get too hot). Make a well in the flour mix, pour over the tepid milk, add the lemon zest and the egg then bring together to form a dough.
Knead the dough on a lightly floured surface for 5 minutes until the dough is smooth and elastic. Lightly grease the mixing bowl and pop the dough in, cover with cling film then leave in a warm place for 2 hours to rise.
After 2 hours knock the air out of the dough and turn out onto a floured surface. Roll the dough out into a rectangle about 1cm thick. Melt the remaining butter with the cinnamon and brush all over the dough then scatter over the mixed dried fruit and soft brown sugar.
From the longest end, roll the dough into a tight cylinder shape. Cut into 9 equal slices and place onto a lightly greased baking sheet, leaving a gap between each of the slices then cover with lightly greased clingfilm. Leave in a warm place for 30 minutes to rise.
Meanwhile preheat your oven to 190ºc, gas 5 (170ºc fan assisted). Bake the buns for 20-25 minutes until risen and golden.
Warm the apricot jam in the microwave and whilst the buns are still hot brush all over, then leave to cool completely.
For the icing simply mix the sugar and lemon juice together to form a paste then once the buns are cool, drizzle over. Enjoy with a cup of tea!