Microwave White Chocolate and Cranberry Fudge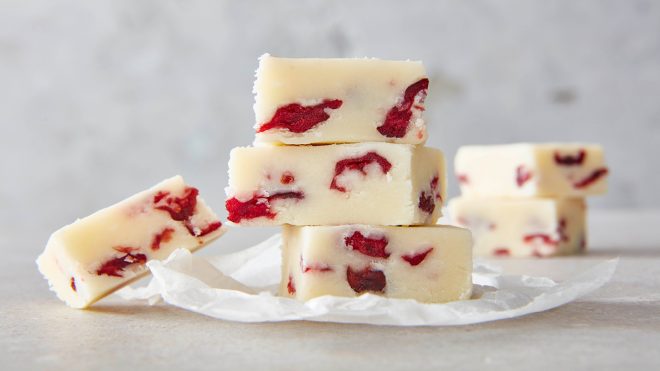 4 servings
25 minutes to prepare
Ingredients
Makes about 675g (1½lb) fudge
100g butter, melted
50g dried cranberries, roughly chopped
450g icing sugar
3tbsp of milk
300g white chocolate
Instructions
Give the gift of fudge with this quick and easy recipe:
Based on a 900 watt microwave:
Place the chocolate into a bowl and heat on 100% (HIGH) for 2 minutes, stir every minute until melted, then, add the butter, cranberries, icing sugar and milk ensuring they are mixed well. Heat on 100% (HIGH) for 3-4 minutes, beat vigorously every minute until thick and glossy.
Pour into a greased, rectangular 20.4cm x 15cm (8″ x 6″) dish and chill to set before cutting. Cut into bite sized squares and gift wrap for a delightful handmade gift.