Marshmallow and Banana Popcorn Bars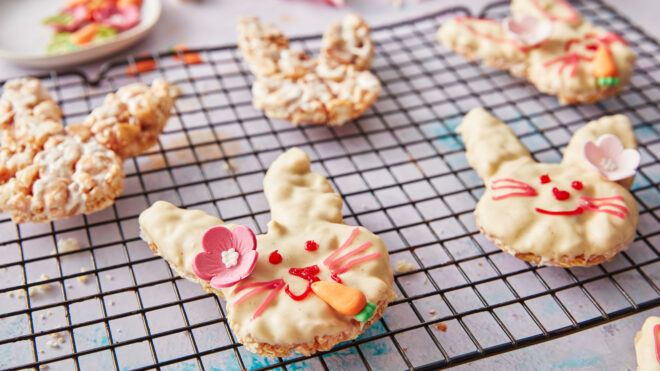 8 servings
5 minutes to prepare
Ingredients
100g Booths popping corn or ready-made popcorn
50g melted butter, plus extra for greasing
200g giant marshmallows
50g banana chips, diced
150g white chocolate
Assorted Dr Oetker icing pens, to decorate
Assorted sprinkles, to decorate
Instructions
Method:
1. If you're making homemade popcorn, follow the pack instructions.
2. Melt together the butter and the marshmallows in a pan on a low heat.
3. Remove from heat and stir in the popcorn and chopped banana chips.
4. Tip out into a buttered non-stick 23cm square baking tin and chill until firm.
5. While the popcorn mix chills, melt the white chocolate in a bain marie. Once the popcorn mixture is chilled, cover with the melted chocolate and leave to set.
6. Cut into squares or bunny shapes using a cookie cutter and decorate with the icing pens and different sprinkles.
Chef's Tip
If using a bunny shaped cookie cutter, keep all the leftover bits, chop up small and fold the leftover ingredients through freshly made warm popcorn for an extra treat!