Boozy Milkshake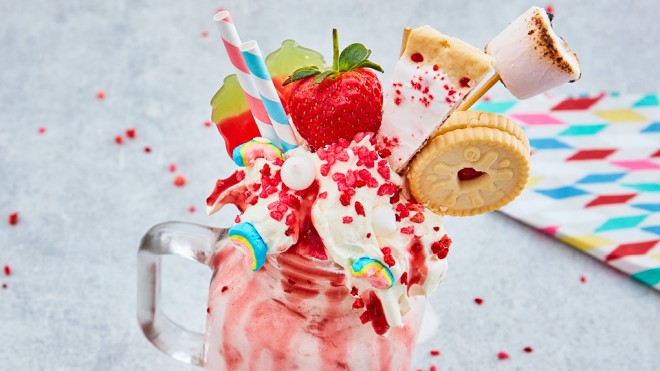 4 servings
10 minutes to prepare
Ingredients
350ml double cream
1ltr milk
200g strawberries, hulled
1ltr tub Booths vanilla ice cream
1 bottle strawberry dessert topping
100ml Galliano (optional)
Topping Ideas
Fresh strawberries
Lucky charms
Mini jammy dodgers
Toasted marshmallows
Strawberry sprinkles
Haribo giant strawbs
Strawberry pop tarts
Instructions
An indulgent milkshake (or freakshake!) that's just for the grown-ups!
Add a messy splash of strawberry dessert topping in to 4 ice cream glasses and place in the freezer for an hour.
To make the milkshake, blend 6 scoops of ice cream with the fresh strawberries, milk, Galliano and a dash of strawberry dessert topping in a food processor or smoothie blender. Use an electric whisk to whisk the cream until softly whipped.
Take the milkshake glasses from the freezer and add a scoop of vanilla ice cream to each, top with the milkshake and stack a good pile of whipped cream on top.
Finish with strawberry dessert topping and your assorted toppings piled on top!
Chef's Tip
If you have that tall, distinctive bottle of Galliano taking up space at the back of your drinks cabinet this is a great use for it, as its blend of vanilla and other spices goes perfectly with strawberries. If you don't you can substitute for any sweet or fruity liqueur of your choice!
These toppings are all just suggestions, you can really let your imagination run wild and come up with your own combinations! The Booths home baking aisle is a great place to start.