Strawberry Mille-Feuille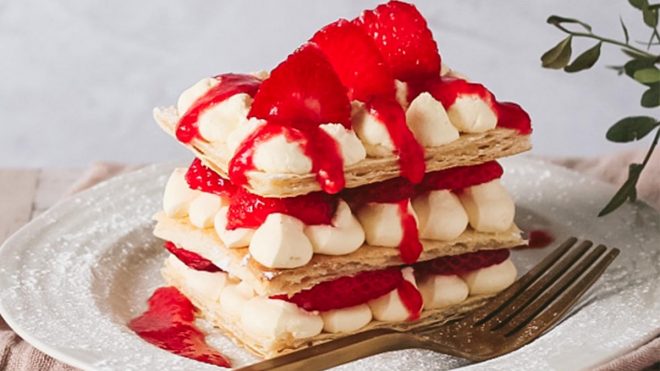 6 servings
1hr 20 mins to prepare
Ingredients
For the Pastry
1 pack of full butter puff pastry sheet
15g icing sugar
For the Cream Mix
450ml double cream
1 tbsp icing sugar
1 tsp vanilla essence or 1 scraped vanilla pod
For the marinated strawberries
1 x 400g punnet of strawberries
Juice of 1 small lemon
1 tsp icing sugar
For the strawberry sauce
1 x 400g punnet of strawberries
Juice of 1 small lemon
1 tbsp icing sugar
Instructions
METHOD
Pre-heat the oven to 200°C/180° (fan). Let the pastry warm enough so you can roll it out onto a baking tray which has been lined with parchment.
Prick the surface of the pastry with a fork, cut the pastry length-ways into three even sized pieces and separate them slightly. Dust the surface with icing sugar.
Place another piece of parchment on top and place a baking tray on top to weigh down the pastry and stop it from rising.
Place the pastry in the oven for 10 minutes. Check the pastry carefully to see if it is brown and crispy. If it's not fully cooked, give it another 5 minutes checking every minute so you don't over cook it.
Remove from the oven, remove the top tray and allow to cool.
Whip up the double cream, icing sugar and vanilla to soft peaks and place in the fridge.
For the marinated strawberries, wash, drain well and cut in half. Add the lemon juice and icing sugar and gently coat the strawberries. Let them sit for 10 minutes.
For the strawberry sauce, add all the ingredients into a blender and pulse until smooth. Then pass through a sieve.
To assemble the mille-feuille, place 1 slice of puff pastry on a chopping board and pipe on the whipped cream in medium sized dots.
Top with the marinated strawberry halves and a little more cream. Place another piece of pastry on top and press down gently.
Repeat 2 more times and then carefully slice into 6 pieces. Dust with icing sugar and serve with the strawberry sauce.