Vegan Chai Spiced Pear & Parsnip Cake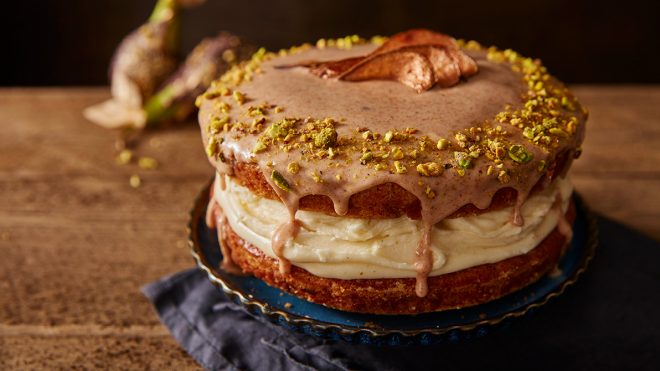 8 servings
20 mins to prepare
Ingredients
100g ripe pears, finely diced or grated
100g parsnips, peeled and grated
300g self raising flour
2 tsp baking powder
300g soft brown sugar
2-3 tsp chai spice or cinnamon
250ml almond milk
75ml maple syrup
75ml coconut oil
For the filling
300g icing sugar
125g vegan margarine
1 tsp vanilla bean extract
For the icing
200g icing sugar
75ml hot water
1 tsp chai spice or cinnamon
Handful chopped pistachios
Instructions
METHOD:
Preheat the oven to 180°c / 160°c fan / 350°f / gas mark 4.
Line two 8" cake tins with parchment paper.
Sieve the flour, baking powder and chai spice together into a mixing bowl.
Add the pear and parsnips to the flour and mix well.
Finish by mixing in the maple syrup, coconut oil and almond milk.
Divide equally into the 2 tins and bake for 30-35 minutes.
Allow the cakes to cool and make the filling by mixing the vegan margarine and icing sugar together, along with the vanilla bean extract.
Sandwich the two sponges together with the vegan vanilla buttercream.
To make the icing to top the cake, mix the icing sugar, water and chai spice together. Decorate the top of the cake with it and sprinkle with the chopped pistachios.
CHEF'S TIP:
Make your own Chai spice mix by mixing 3tsp of ground ginger, 1tsp of ground cinnamon, 1tsp of ground cardamom, 1/2 tsp of ground allspice, 1/2 tsp of ground cloves, 1/2 tsp ground nutmeg and 1tsp of ground black pepper.