Strawberry Meringue Ice Cream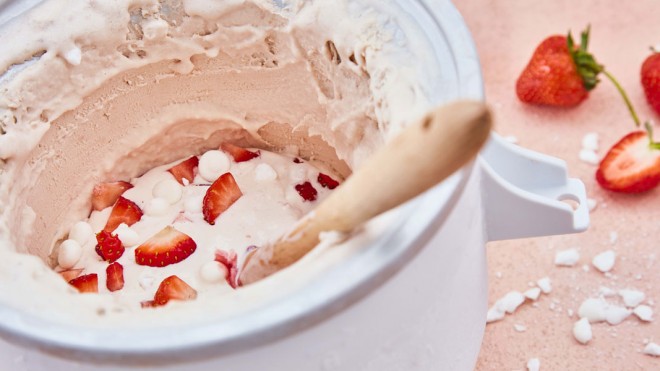 10 servings
20 minutes plus cooling time to prepare
Ingredients
600g strawberries, hulled and quartered
500ml milk
500ml cream
200g caster sugar
12 egg yolks
40g mini meringue sprinkles
100ml strawberry dessert topping sauce
Instructions
This recipe requires a domestic ice cream machine. Make sure to place the bowl from the machine in the freezer, set to its coldest setting, at least a day before for best results. You may need to churn this recipe in 2 batches depending on the size of the bowl (Check your ice cream machine's instructions to be sure.)
 Method
Heat the cream and milk in a pan until simmering.
Whisk together the yolks and sugar and add to the cream mixture, cook over a low heat, stirring constantly until the custard mixture coats the back of the spoon, do not allow to boil.
Blend the hot custard with 350g of strawberries until smooth. Allow the mixture to chill completely before churning.
When ready, fold in the remaining strawberries and meringue and finally stir in the strawberry sauce without fully mixing to create a ripple effect.
Place in a plastic container in the freezer and freeze for another 2-3 hours before serving.