Strawberry and Elderflower Sangria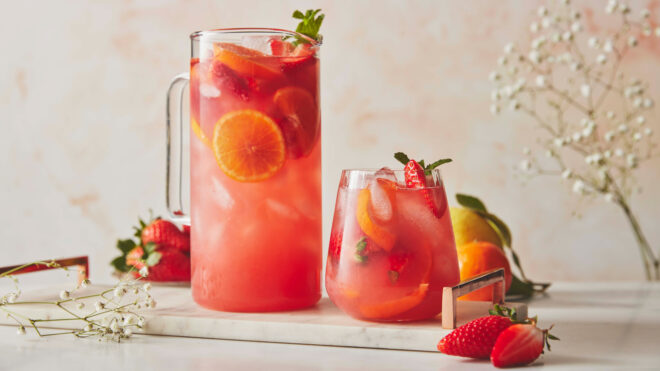 2 servings
30 minutes to prepare
Ingredients
For The Strawberry Syrup
125g strawberries
1 lemon, juiced
100ml water
100g caster sugar
For The Cocktail
Ice
1 bottle Rose wine
100ml St Germain elderflower liqueur
125g strawberries, sliced
1 orange, sliced
Instructions
Method:
1. To make the strawberry syrup, bring to a simmer the strawberries, lemon juice, water and caster sugar, liquidize then pass through a sieve and chill.
2. Half fill a large pitcher or jug with ice and pour over the rosé, elderflower liqueur and strawberry syrup then stir.
3. Top with the sliced orange and strawberries and serve in chilled glasses.
Chef's Tip
Change the rosé to Prosecco for a great pre drinks cocktail.