Buttermilk Scones with Lemon Curd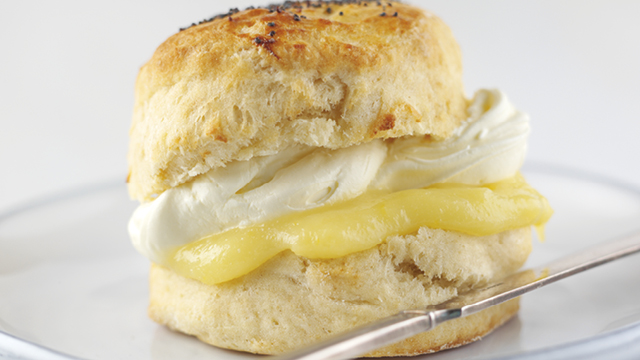 12 servings
95 minutes to prepare
Ingredients
450g self-raising flour
1 tsp baking powder
80g chilled cubed butter
80g caster sugar
284ml buttermilk
2 eggs, beaten
Pinch of salt
10g poppy seeds
FOR THE LEMON CURD
50g unsalted butter
110g caster sugar
Zest and Juice of 2 lemons
2 large eggs, beaten
1 large egg yolk, beaten
Instructions
To make the lemon curd, melt the butter in a saucepan on a very low heat. Add the sugar, lemon zest and juice then stir until the sugar has dissolved. Add the eggs and gently stir until the mixture coats the back of a spoon. Pour into clean sterilised jars. Cover with a disk of greaseproof paper and pop a lid on. It will thicken a little more when cold. Once made it will keep in the fridge for a couple of weeks.
To make the scones, pre-heat your oven to 220°c, gas mark 7. Line a baking sheet with baking parchment.
Sieve the flour, baking powder and salt into a large bowl. Add the cubed chilled butter and using your finger tips rub all the ingredients together until you have a fine crumb, then stir in the caster sugar.
Mix the buttermilk and eggs together. Make a well in the centre of the flour mixture. Pour in the buttermilk (keeping 1 tbsp back to glaze the scones) and using a blunt knife work the mixture until it comes together. Don't over work otherwise the scones will become heavy.
Tip the dough onto a lightly floured surface, then roll or flatten out to about 2.5cm thick. Using a 6cm cutter stamp out 12 scones. You can bring the dough back and re-roll but remember to work gently. Place the scones onto the baking sheet, brush the tops with the reserved buttermilk, sprinkle over the poppy seeds and bake for 12-15 minutes until risen and golden. Once made the scones can be kept for a couple of days in an airtight container and reheated.
Serve the scones with a spoonful of the lemon curd and a little whipped cream or Roddas Clotted Cream.
The optimum time and temperature varies by individual ovens – these are guidelines only. Some products may only be available in our larger stores. All content © Booths 2014.