Summer Berry Roulade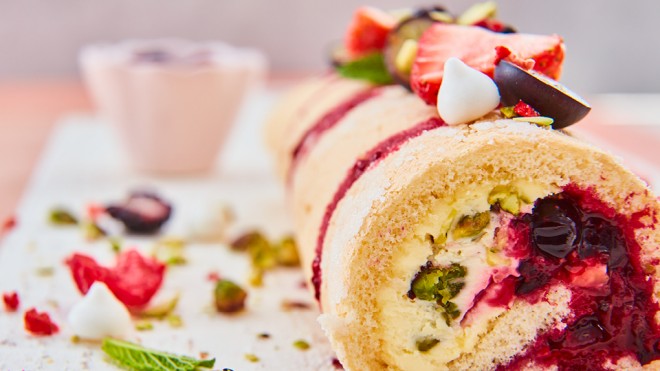 6 servings
1 hour to prepare
Ingredients
600g summer berries
100ml water
75g caster sugar
1 lemon, juice & zest
1/2tsp cornflour
2tbsp chopped pistachios
1 227g tub clotted cream
For The Sponge
3 large eggs
125g caster sugar
125g plain flour, sieved
To serve
Mini meringues from the home baking aisle
2tbsp chopped pistachios
1 227g tub clotted cream
Instructions
Celebrate summer berries with this show stopping roulade!
To make the filling, bring the berries, sugar and lemon juice to a simmer in a saucepan. Combine the cornflour with 100ml of cold water and mix to a paste, pour into the berry mixture and simmer whilst stirring until the mixture begins to thicken. If it's too runny, you can spoon off some of the liquid. Remove from the heat to cool.
To make the sponge, use an electric whisk to whisk the eggs and sugar until pale. The mixture should leave a trail from the whisk when ready. Fold in the flour and spread out evenly onto a 20x30cm baking tray lined with baking paper.
Bake in a preheated oven at 180°C/350°F/gas mark 4 for 10-12 minutes or until firm to the touch. Remove from the tin and place onto a work surface, with the baking paper on the bottom. Working quickly before the sponge becomes brittle, use a pallet knife to spread out the berry mixture and one tub of clotted cream over the cake and sprinkle with half the pistachios. Make sure to leave a 1 inch gap from the edge of the sponge to prevent the mixture from escaping.
Quickly roll the sponge, using the edges of the baking paper to help, to form a tight cylinder. Refrigerate for at least 30 minutes. Transfer to a serving board and garnish with fresh berries, chopped pistachios and the mini meringues, serve with the remaining tub of clotted cream.
Chef's Tip
Use a pre-made curd or jam of your choice if you're short on time.