Chocolate & Cherry Roulade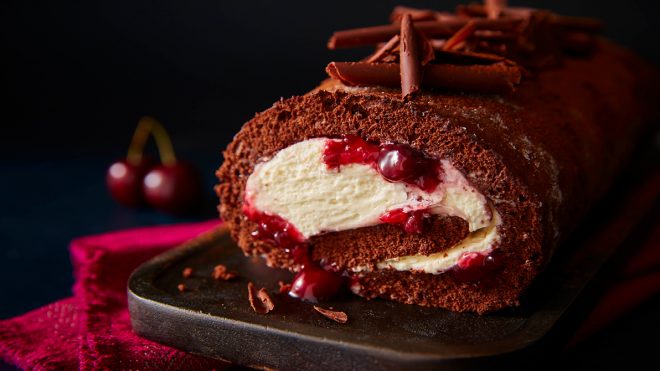 6 servings
70 minutes to prepare
Ingredients
For the cake:
5 egg whites
55g caster sugar
Pinch of salt
Pinch of cream tartar
1tsp vanilla extract
60g soft brown sugar
50g plain flour
3tbsp cocoa powder
Icing sugar for dusting
For the filling:
1 x 400g tin of pitted cherries, roughly chop the cherries
100ml brandy
300ml double cream
1tbsp icing sugar
1tsp vanilla extract
Instructions
METHOD
Pre-heat the oven to 180°C/Gas mark 4
Beat the egg whites with a fork until foamy. Add the cream of tartar and continue to whisk until soft peaks form. Gradually, whisk in the caster sugar 1tbsp at a time along with the vanilla extract to create a glossy meringue.
Next, sift in the flour, cocoa powder and brown sugar and gently fold, trying to keep as much air in as possible. Pour the mixture into the prepared swiss roll tin, level off with a palette knife and bake for 10-15 minutes (or until set) and cool for 5 minutes, before turning out onto another piece of baking parchment sprinkled with caster sugar.
In a saucepan, gently warm the cherries with the juices and the brandy then spoon all over the sponge and leave to cool slightly.
Meanwhile, whip the cream with the icing sugar and vanilla. Once cooled to touch, spread the mixture all over the sponge, leaving a 3cm edge along one side.
Roll into a log using the parchment paper to help. Decorate with chocolate curls and a sprinkling of coco powder.