No Bake Cherry Bakewell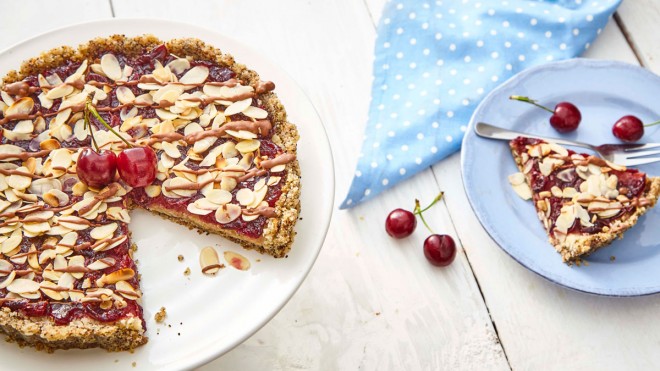 10 servings
2 hours to prepare
Ingredients
For the Jam
200g fresh cherries, pitted
3tbsp sugar
3-4tbsp water
For the Base
200g softened dates
200g ground almonds
50g melted butter or coconut oil
2tbsp chia seeds
For the Frangipane
200g ground almonds
6tbsp maple syrup
2-3tsp almond extract
Topping
50g booths salted almond chocolate, melted
Toasted flaked almonds
Instructions
Celebrate the cherry with our no bake cherry bakewell recipe! You'll need a 9″ loose bottomed tart tin for this one.
METHOD:
1. Start by making the jam. Put the cherries, water and sugar into a saucepan and place on a medium heat, stirring continuously. Once the cherries start to soften press down with the back of a spoon, take off the heat and allow to cool before placing in the fridge to set for about an hour.
2. To make the base place the dates, chia seeds and ground almonds into a food processor along with the melted butter and mix until it forms a dough like consistency.
3. Press the base mixture in the 9" tart tin and freeze to set for about 30 minutes.
4. Meanwhile prepare the frangipane by putting the almonds, maple syrup and almond extract into a bowl and mix until you have a nice even mixture.
5. Remove the base from the freezer and spread the frangipane on top, spreading it out evenly using the back of a spoon. Top with the jam, then sprinkle with the toasted almonds. If you need to toast your own, simply heat a dry pan, and pop the flaked almonds in for about 2 minutes, watching carefully in case they burn.
6. Melt the chocolate in a heatproof bowl over a pan of simmering water (don't allow the water to touch the bowl) then drizzle over the tart.
Chef's Tip:
Substitute the butter for coconut oil and leave out the chocolate to make this recipe vegan friendly. Reserve some of the jam and just warm it up gently in a saucepan to make it runny enough to drizzle across the top of the cake in place of chocolate.