Peanut Butter & Milk Chocolate Flapjack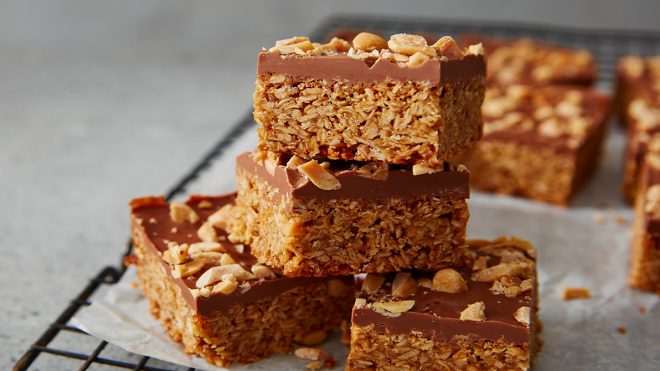 12 servings
15 mins to prepare
Ingredients
250g butter
150g Demerara sugar
250g golden syrup
200g peanut butter
425g porridge oats
To decorate
75g milk chocolate
A small handful of peanuts, chopped
Instructions
METHOD
1 Preheat the oven to 170°C.
Melt the butter, sugar, golden syrup and peanut butter in a saucepan.
Add the oats and add the mixture to a suitable sized flapjack tin that's been lined with parchment.
Bake in the oven for 12 minutes. Remove and allow to cool whilst melting the milk chocolate.
In a small saucepan, add a couple of inches of water and bring to a gentle simmer. Place a heatproof bowl over the saucepan ensuring the base of the bowl does not touch the water and the water doesn't boil. Carefully break the milk chocolate into the bowl and stir with a spoon to gently melt.
Top the cooled flapjack with the melted milk chocolate.
While the chocolate is still wet, sprinkle the chopped peanuts on top.
Once the chocolate has set, cut the flapjack into even sized pieces.
CHEF'S TIP Remove the peanut butter from the ingredients and top with melted dark chocolate and  chopped pistachio for a luxury nutty taste!