The Boho Baker's Chocolate Orange Snowflake Bread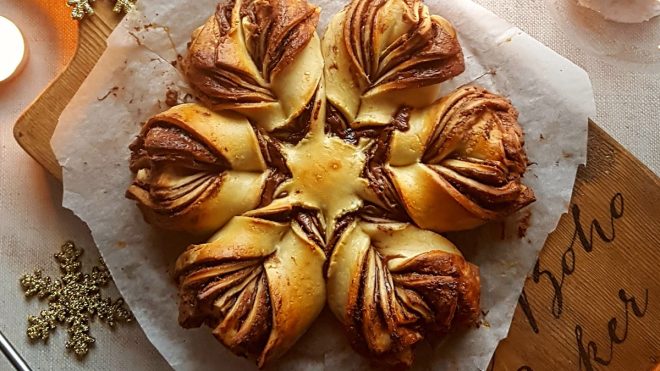 6 servings
1 hour 45 minutes to prepare
Ingredients
180ml whole milk
150g chocolate spread
500g plain flour
1tbsp active dried yeast
70g white sugar
2 eggs
30g butter softened
Pinch salt
Zest of 1 orange
Instructions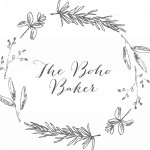 The Boho Baker describes herself as "Baker. Writer. Forager. Wanderer. Organic ingredient and edible floral Enthusiast. Member of the Guild of Food Writers." Very local to our HQ in Preston, she's kindly agreed to do a series of recipes for us, celebrating the best of our local produce. Follow her on instagram @thebohobaker
This showstopper of a breakfast dish may look a little complicated, but the snowflake design is created with a couple of little twists rather than any intricate plaiting. With 20 minutes prep, an hour prove, and 25 minutes bake time, this could easily be thrown together on Christmas morning and left to prove and bake whilst the gifts are being unwrapped.
Method
Heat the milk in a microwave for 40 seconds on medium/high. Add the yeast, a tablespoon of sugar and a tablespoon of flour, and give it a good stir. Set aside for 10-15 minutes whilst the yeast activates.
Separate the eggs, placing the yolks in a large mixing bowl and the whites in a smaller dish/mug. Add the flour, sugar, butter, salt, and yeast mixture to the bowl with the egg yolks. Mix with a large spoon, then finish by using your hands to bring the mixture together into a dough.
Tip the dough onto a worktop that has been lightly dusted with flour, before kneading and pulling for 5 minutes. Place the dough back in the bowl, cover the top with clingfilm or a damp towel, and leave in a warm place for an hour to prove.
Preheat the oven to 180C/Gas mark 4 and line a baking tray with a sheet of greaseproof paper. Remove the dough from the bowl and split into four equal pieces. Roll out the first piece to just under the thickness of a pound coin. Place a small plate over the dough as a template, and then cut around it with a knife or a pizza cutter. Place the circle onto your baking sheet, and cover with a layer of chocolate spread and a sprinkle of orange zest. Repeat with the next two pieces of dough.
Roll and cut out the final piece of dough and place on top of the last chocolate orange layer. Leaving an uncut circle in the centre, take a sharp knife and make 12 incisions from the outside in (it's easier if you think of cutting it at 1 o'clock, 2 o'clock, etc). You will be left with 12 strips of chocolate filled dough.
Take your first two strips of dough, and gently twist them in opposite directions before bringing the two ends together and giving them a gentle squeeze. You should only get one or two rotations out of each strip, any more and the dough is liable to split. Continue with the other 10 strips of dough until your snowflake has formed.
Bake in the oven for 20-25 minutes, or until golden and crisp.
Hints/Tips/Troubleshooting:
If you're not a fan of chocolate orange, you can omit the zest or replace it with some toasted hazelnuts. Just pop some chopped nuts in the oven for 15 minutes whilst your dough is proving and sprinkle a small handful on each layer with the chocolate spread during the construction stage.