White Hot Chocolate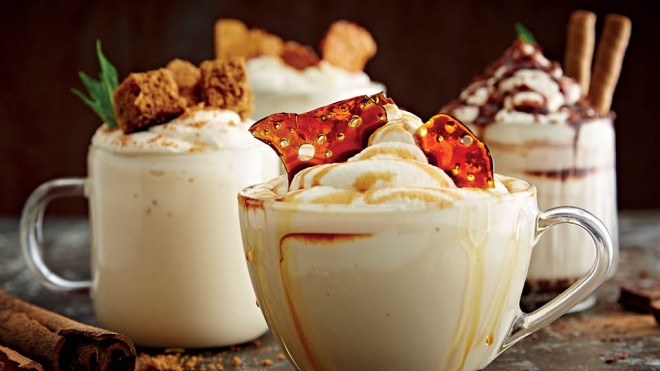 4 servings
20 Minutes to prepare
Ingredients
200g white chocolate (grated)
1 cinnamon stick
1 vanilla pod (split lengthways and seeds scraped out. Keep the seeds.)
200g sugar (for the caramel)
1ltr double cream
1ltr milk
100ml toffee vodka (For adults only of course)
Instructions
Let's start with the caramel shards:
1 First cut and place a 30cm piece of baking parchment onto a heatproof surface. Now place all of the sugar with a little water into a small saucepan and boil over a high heat until the syrup turns a light auburn colour. If you have a thermometer this is approximately 170°C. Keep an eye on it as it can be quick to burn.
2 Immediately pour the caramel onto the sheet of baking parchment and leave until completely cooled. Now break it into small shards.
For the creamy hot chocolate:
3 In a large mixing bowl, whisk 750ml of the double cream until it forms soft peaks.
4 Next pop all of the milk, 250ml of the remaining cream, the cinnamon stick, vanilla pod and seeds into a saucepan and bring to a simmer. Simmer for 5 minutes.
5 Remove from the heat and whisk in the grated white chocolate and the toffee vodka (in the adults only version of course).
6 Ladle into 4 mug,  spoon on the whipped cream and garnish with the shards of caramel.
CHEF'S TIP You can have a bit of fun with your toppings and stir through a salted caramel or chocolate sauce, or top with diced pieces of gingerbread, parkin, cinder toffee or crushed amaretti biscuits. Yum!