The Boho Baker's Floating Easter Egg Cake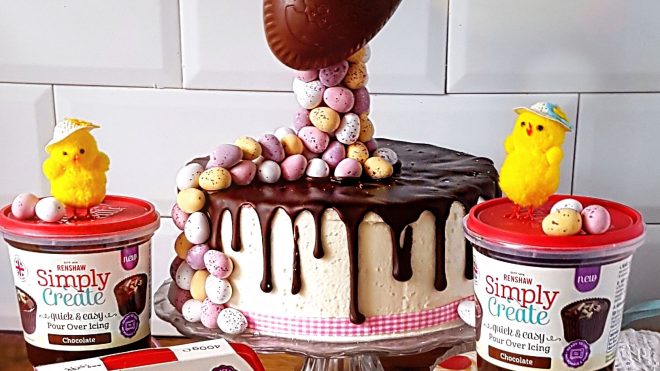 12 servings
1 hour 3 minutes to prepare
Ingredients
1 round chocolate cake
1 tub Simply Create Pour Over Icing
1 tub Simply Create White Chocolate Frosting
300g chocolate mini eggs
1 small Easter egg
5 sturdy paper drinking straws
Instructions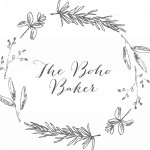 The Boho Baker describes herself as "Baker. Writer. Forager. Wanderer. Organic ingredient and edible floral Enthusiast. Member of the Guild of Food Writers." Very local to our HQ in Preston, she's kindly agreed to do a series of recipes for us, celebrating the best of our local produce. Follow her on instagram @thebohobaker
The Boho Baker has created this showstopping Easter cake using a brand new cake decorating range from Renshaw's, called 'Simply Create,' which is due to launch in stores very soon. She says:
I have never used a supermarket range that performs on such a high level.
You'll need 5 sturdy paper drinking straws to support the egg.
Method:
Place your cake on a plate or cake stand. Whip up the Renshaw white chocolate frosting with a spoon before using it to coat your cake. Run a cake scraper or palette knife around the sides to smooth, and then pop the cake in the fridge for half an hour to set.
Remove the lid from the Renshaw Pour Over Icing and heat the tub in the microwave according to the packaging instructions. Carefully spread a little icing on each of the straws and squeeze them all together to create one thick bundle. Leave in the fridge to set for five minutes.
When everything has set, insert the straws into the centre of the cake. Reheat the Pour Over Icing again if necessary, and spoon over the top of the cake, gently coaxing it over the edges using the back of a spoon. Carefully dip the mini eggs into the Pour Over Icing one at a time, and stick them to the top of the cake, working your way up the straws. Place in the fridge to set for ten minutes.
Hook one half of the Easter egg over the top of the straw/mini egg pillar. Hook the other half over the top, creating the illusion that the mini eggs are tumbling out. Enjoy within 2 days.