The Boho Baker's Honey White Chocolate Cupcakes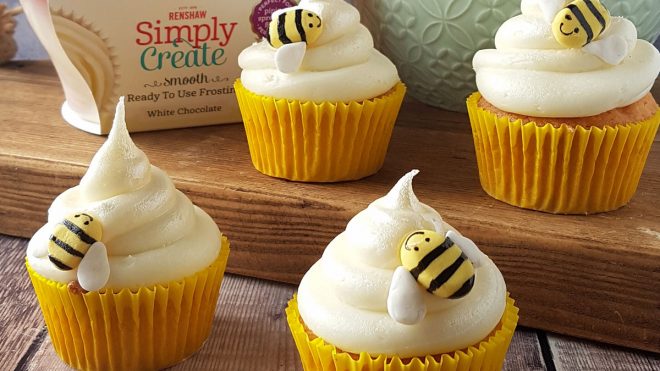 12 servings
1 hour to prepare
Ingredients
115g self raising flour
115g caster sugar
115g cake margerine or butter (at room temperature)
2 eggs
1tbsp honey
1 tub Renshaw's Simply Create white chocolate frosting
70g Renshaw's Simply Create white chocolate ready to roll icing
Black food colouring
Yellow food colouring
Instructions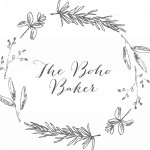 The Boho Baker describes herself as "Baker. Writer. Forager. Wanderer. Organic ingredient and edible floral Enthusiast. Member of the Guild of Food Writers." Very local to our HQ in Preston, she's kindly agreed to do a series of recipes for us, celebrating the best of our local produce. Follow her on instagram @thebohobaker
The Boho Baker has created these gorgeous buzzy bee cupcakes using a brand new cake decorating range from Renshaw's, called 'Simply Create,' which is due to launch in stores very soon. She says:
I have never used a supermarket range that performs on such a high level.
Method:
Preheat the oven to 190C/170 fan/gas mark 5. Set out 12 cupcake cases in preparation.
Mix together the caster sugar and cake margarine until pale and fluffy. Add the self raising flour, eggs, and honey, and mix until a smooth batter has formed.
Distribute the batter between the 12 cake cases and bake in the oven for 15 minutes. Leave on a wire rack to cool.
Whilst the cakes are cooling, take 50g of the ready to roll icing and add a dash of yellow food colouring. Knead until well combined, and split into twelve small pieces, rolling each one into a chubby oblong. Use the black food colouring to paint three stripes and a smiley face on each bee.
Fill a piping bag with the white chocolate frosting, snip off the end, and pipe a large swirl on top of each cupcake.
Pop a bee on top of each cupcake. Soften the rest of the white ready to roll icing in your hands and mould into 24 small tear drop shapes for the wings. Stick the wings to the frosting on either side of each bee. Enjoy within 3 days.