Jessica Widd's Hot Chocolate Cake with Almond Cream and Marshmallow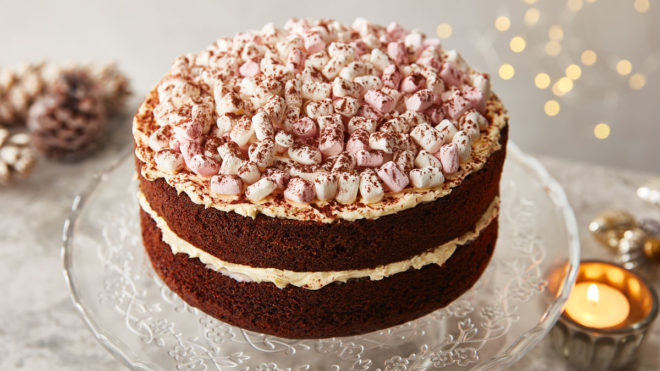 10 servings
1 hour, plus cooling and chilling time to prepare
Ingredients
For the cake
250g unsalted butter, softened
250g caster sugar
250g self raising flour
4 eggs
100g cocoa powder
100ml Baileys Irish Cream
50ml milk
1tsp salt
For the marshmallow filling
170g Big Rocky Mountain Marshmallows (or other marshmallows)
100ml milk
For the almond cream
300ml double cream
10ml almond cream
To Decorate
Handful mini marshmallows
Cocoa powder
Instructions
Our Ripon store colleague Jessica Widd has created this decadent chocolate marshmallow cake with a touch of alcohol – the perfect indulgence for a party table. This isn't Jessica's first festive creation for our recipe library, take a look at her grasshopper pie here (opens in a new window).
Preheat the oven to 180°c / 350°f / gas mark 4 and grease and line a medium sized cake tin.
Cream the sugar and butter together until they're light and creamy. Now crack in the eggs one at a time and mix until it forms a batter.
Sieve the flour and the cocoa into the mixture and fold in with a metal spoon.
Stir the salt, Irish Cream, and 50ml of milk into the batter. Feel free to experiment with rum or Amaretto instead of the Irish Cream if you wish.
Pour the mixture into the prepared tin. Place in the middle of the oven and cook for around 35 minutes, give or take. Prick the middle of the sponge with a sharp knife or skewer and if it comes out clean, the cake is cooked all the way through.
Once the cake is cooked, remove it from the oven and leave it to cool completely.
While the cake is cooling, take out a small saucepan and gently melt the marshmallows with 100ml of milk on a low heat (again you can add a tiny amount of any other interesting flavourings or alcohol if you're brave enough). When this is done, put the marshmallow goo to one side.
Cut your cake in half horizontally, and carefully tip both sides over (if your cake is high peaked, use a jug to make sure the sponge doesn't slip). Slowly smooth the marshmallow mix evenly over the cut side of each sponge half. Allow the two pieces of cake to chill in the fridge for about two hours, or at least until the marshmallow goo has become stable.
As the marshmallow and the sponge are getting aquainted, in a clean bowl whisk the double cream and the almond flavouring together until it forms soft peaks.
Smooth half of the cream onto one of the sponge halves and then sandwich the two pieces together. Spread the rest of the cream on top before finishing off with a sprinkling of  mini marshmallows and a small dusting of cocoa powder. Serve and enjoy.