The Boho Baker's Buttercream Sponge Cake Bertie Badgers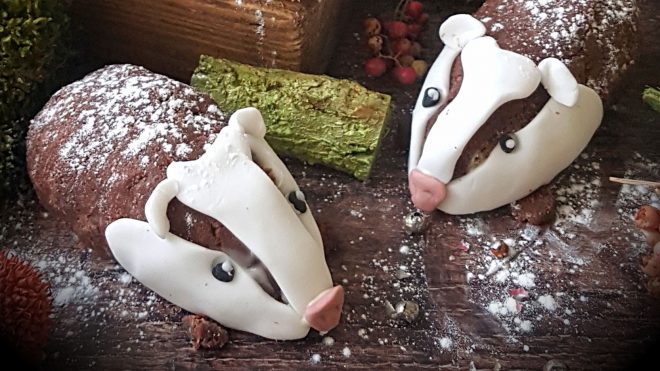 8 servings
2 hours, plus cooling time to prepare
Ingredients
For the Cake
170g Booths Self Raising Flour
170g golden caster sugar
170g butter / baking margarine
3 eggs
2tsp cocoa
OR
1 large chocolate sponge cake
For the Buttercream / Decoration
225g icing sugar
85g unsalted butter
1tsp heaped, cocoa
Splash milk
OR
1 pot chocolate buttercream
For the Eyes, Stripes & Nose
50g white sugar paste / ready to roll icing
10g black sugar paste / ready to roll icing
Dash pink or red food colouring
Instructions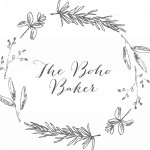 The Boho Baker describes herself as "Baker. Writer. Forager. Wanderer. Organic ingredient and edible floral Enthusiast. Member of the Guild of Food Writers." Very local to our HQ in Preston, she's kindly agreed to do a series of recipes for us, celebrating the best of our local produce. Follow her on instagram @thebohobaker
These cute little buttercream sponge cake Bertie badgers are great fun to make with children, and if you don't fancy making the sponge and buttercream from scratch, you can use store bought ingredients instead for a crafternoon of foodie construction fun!
Preheat the oven to 165C/gas mark 3. Line a 6″ cake tin with baking paper.
Cream together the golden caster sugar and butter/cake margarine until light and fluffy. Add the eggs, flour, and cocoa, and continue to beat until a smooth batter has formed. Pour into the cake tin and bake for 45-60 minutes, or until a skewer inserted into the centre comes out clean.
Whilst your cake is cooling, pop the unsalted butter into a stand mixer  (or use a little elbow grease) and whisk until creamy. Add the icing sugar, cocoa, and splash of milk, and continue to mix until you have a smooth buttercream. If your buttercream seems a little stiff, add more milk a spoon at a time to soften.
When the cake has fully cooled, pop it in a large bowl and break it up with your fingers until you're left with a pile of crumbs. Add two large tablespoons of buttercream and work it in with your hands. Keep adding small amounts of buttercream until a firm dough has formed. Take a small piece of dough and roll it into a ball in your hands: if it cracks, work in a little more buttercream. Please note, it is unlikely you will need all of the buttercream you have made so just keep adding it until the dough is smooth and firm.
Split your dough into several even sized pieces (the quantity depends on how large you want your badgers to be). Gently roll each piece into a cone shape, tapering off the ends to create little badger snouts.
Take two small pieces of sugar paste or ready to roll icing, flatten them out, and use your fingers to mould them into slim teardrop shapes. Use a little buttercream to stick them to the sides of Bertie's face. Take a third piece of white paste or ready to roll icing and flatten it out, tapering the edges out to the sides on one end. This piece runs from Bertie's nose to the top of his head. Glue this on using a little buttercream, before adding two little sugarpaste ears.
Add a dash of the pink or red food colouring to a small amount of white sugar paste or ready to roll icing and use this to make his nose. Roll out two small balls of black sugarpaste or ready to roll icing for his eyes and stick them to the side of his head. Dab a tiny dot of buttercream on each eye to bring Bertie to life. Repeat this process with the rest of the dough to create a whole family of chocolate badgers.
Hints/Tips/Troubleshooting:
If you don't like chocolate or have given it up for lent, this recipe still works well without the cocoa. Just omit the cocoa from the sponge recipe and replace it with a teaspoon of vanilla in the buttercream.
Whilst Bertie is fun to make, why not try making his some of his friends, Sam the Squirrel and Freddy the Fox? Just leave the cocoa out of both recipes and add a dash of food colouring to the dough to create any animal you wish.