Flourless Chocolate Cake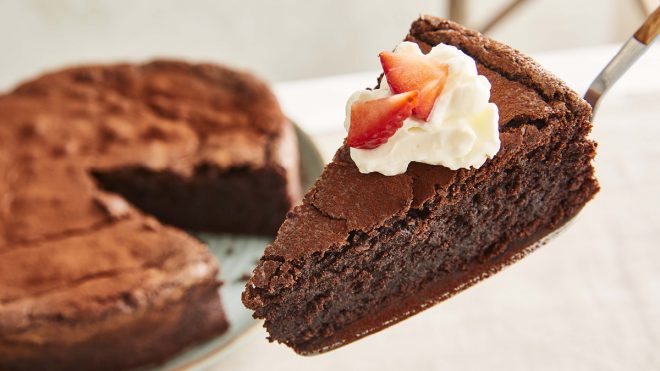 10 servings
1 hour 10 minutes to prepare
Ingredients
200g butter
100g dark chocolate, chopped
300g golden caster sugar
6 eggs
75g cocoa powder
125g ground almonds
Cocoa powder to dust
Instructions
Our flourless chocolate cake is a real treat, whether you're gluten intolerant or not! Rich and chocolaty, this indulgent dessert is guaranteed to become your new favourite chocolate cake recipe!
Method
Pre-heat the oven to 160°C (fan)/350°F/gas mark 4. Line the base and sides of a 23cm loose bottomed cake tin with baking paper.
Place the butter and chocolate into a glass bowl and set over a pan of simmering water to melt. Stir to form a glossy mixture.
Place the sugar and eggs into a bowl. Using an electric mixer whisk for 5 minutes until thick and creamy.
Fold the melted butter and chocolate mix into the egg mixture.
Sift the cocoa powder into the mixture. Add the ground almonds and fold to combine.
Pour the mix into the lined tin and bake in a pre-heated oven for 45-55 minutes. The cake should have a slight wobble in the centre when baked.
Allow to cool completely in the tin before removing. Place on a cake stand and dust with cocoa powder before serving.
Chef's Tip
Make sure you line you cake tin well as the cake batter is quite runny. This cake is gorgeous eaten warm or cold. Serve as an indulgent dessert warm from the oven with a scoop of ice cream.