Chocolate & Ale Muffins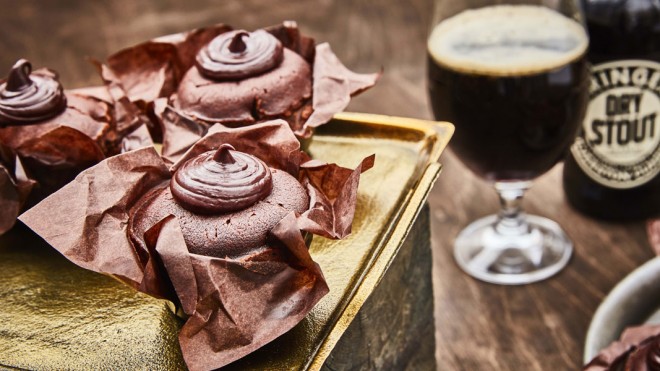 10 servings
60 minutes to prepare
Ingredients
250g flour
250g sugar
250ml dark beer
250g butter
75g cocoa powder
2tbsp chocolate chips
150ml sour cream
1tsp baking powder
3 eggs
For the ganache
200g dark chocolate (70%)
200g double cream
Instructions
These rich, indulgent chocolate muffins work well with your favourite dark ale, perfect with Guinness!
Method
Pre-heat the oven to 180°C / 350°F / gas mark 4. Line a muffin tin with muffin cases, this mix will make approximately 10, depending on how big they are.
Melt the butter with the beer in a saucepan over a low heat, remove from the heat and stir in the dry ingredients.
In a separate bowl, whisk together the eggs and sour cream then stir into the mixture until fully incorporated.
Pour into the muffin cases and bake for 25 minutes or until firm. Allow to cool before decorating.
Melt the chocolate and cream together in a bowl over a saucepan of simmering water (don't let the water touch the bowl) and whisk until smooth, transfer to a piping bag and decorate each muffin.