Birthday Cookie Pie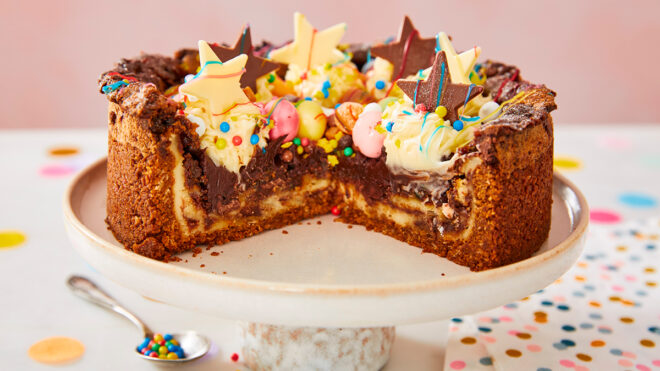 12 servings
60 mins to prepare
Ingredients
For the Cookie Dough
150g salted butter
75g light muscovado sugar
75g caster sugar
1 large egg, beaten
200g plain flour
2 tbsp cornflour
1/2 tsp bicarbonate of soda
75g chopped milk chocolate
75g chopped dark chocolate
For the Biscuit Base
1 pack Hobnobs
1/2 tsp ground cinnamon
150g salted butter, melted
For the filling
180g full fat soft cheese
125g marscarpone cheese
75g Greek yoghurt
60g caster sugar
1 large egg
1 egg yolk
25g plain flour
1 tsp vanilla paste
120g pack Bonds chocolate honeycomb bits (or your chocolate of choice)
To Decorate
Vanilla buttercream
Assortment of sprinkles, sweets and decorations
Instructions
You will need an 8"/20cm spring form cake tin.
METHOD:
1. Pre heat the oven to 160°C/ 140°C Fan/ 325°F/ Gas Mark 3.
For The Cookie Dough:
1. In a mixer, cream the butter, muscovado sugar, and caster sugar until light and fluffy.
2. Add the beaten egg and mix well.
3. Add the flour, bicarbonate of soda and cornflour, then mix well to form a dough.
4. Mix the chopped chocolate into the dough.
5. Roll out the cookie dough between two sheets of greaseproof paper to the size of the cake tin and chill in the fridge for thirty minutes.
For The Biscuit Base:
1. Crush the biscuits into a fine crumb, add the melted butter and mix.
2. In a lightly buttered 8" spring form cake tin, press half of the Hobnob mix evenly into the base.
3. Press the next half into the sides of the tin, making sure it's even, it should now look a bit like a pastry case. Put in the fridge and allow to chill for thirty minutes.
For The Cheesecake Filling:
1. Put the cheeses, yoghurt, sugar, vanilla paste, egg, egg yolk and flour into a large mixing bowl and mix well.
2. Stir through the chocolate.
To Put It Together:
1. Pour the cheesecake filling into the cake tin over the biscuit base.
2. Bake in the oven for 30-35 minutes until the cheesecake starts to set.
3. Take the cookie dough from the fridge, remove the greaseproof paper, and put the cookie dough on top of the cheesecake. Bake in the oven for 10 minutes.
4. After 10 minutes turn the heat up to 200°C/180 °Fan/ 375°F/ Gas Mark 5 and bake for 10 more minutes.
5. Take out of the oven and allow to cool completely. For best results refrigerate overnight. It will sink a little bit in the middle but that's normal.
6. Remove from the cake tin and pipe on plenty of vanilla buttercream and top with your favourite sprinkles and decorations.
CHEF'S TIP
The cookie pie will sink in the middle, that's perfectly normal and will be covered by the decorations that you add at the end.