Scary Spider Cupcakes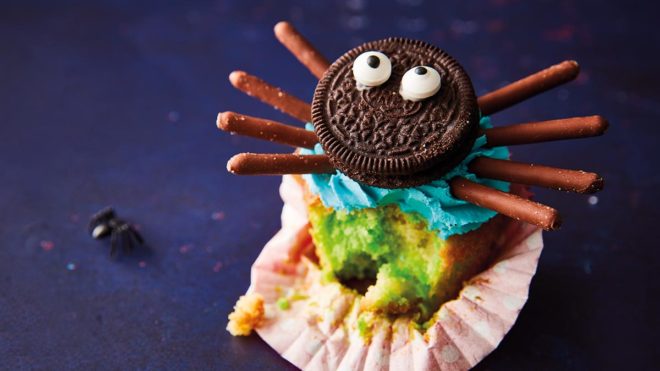 12 servings
1 hour to prepare
Ingredients
Cupcake Ingredients
250g unsalted butter, softened
250g caster sugar
250g self-raising flour
1/2 tsp baking powder
4 medium eggs
1 tsp vanilla extract
2 tbsp milk
1/2 tsp green food colouring gel
Buttercream Ingredients
600g icing sugar
300g unsalted butter at room temperature
1 tsp vanilla extract
1 tube blue food colouring gel
Decorations
1 pack of Oreo Biscuits
1 packet of Mikado sticks
1 pack of googly eyes
Instructions
METHOD
1 Preheat your oven to 180C/gas mark 4/350F. Line your muffin tin with cupcake cases.
2 Mix all of the cupcake ingredients (apart from the green food colouring) together with an electric mixer until you have a smooth batter.
3 Then divide between two bowls, use the food colouring to turn one half green. Fill the cupcake cases alternatively with each of the batters creating a marbling effect.
4 Bake for 20-25 minutes or until golden. Remove from the oven and place on a cooling rack.
5 For the buttercream icing, mix the butter and vanilla extract together until light and fluffy. Slowly add the icing sugar and then the blue food colouring.
6 Pipe a swirl of buttercream on to each cupcake, add an Oreo biscuit, some googly eyes and give your spider cupcake eight Mikado stick legs.