Spicy Pickled Red Cabbage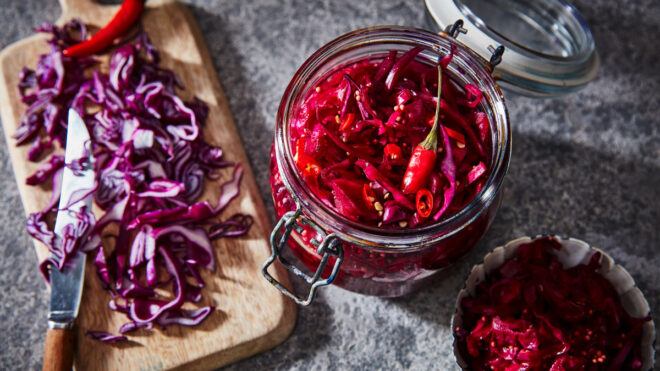 10 servings
10 mins to prepare
Ingredients
1/2 red cabbage, finely shredded
150g coarse sea salt
500ml cider vinegar
200ml red wine
400g granulated sugar
2 tsp whole black peppercorns
6 bay leaves
2 tbsp fennel seeds
2 Birdseye chillies, whole
Instructions
METHOD
Pop the cabbage into a big bowl and mix well with the salt. Leave for 2-3 hours, then thoroughly rinse off the salt and drain well. Pat the cabbage dry with a clean tea towel. This process draws some water out of the cabbage, to helping it to keep its crunch once pickled.
Pour the vinegar, wine, sugar, peppercorns, fennel seeds, chilli and bay leaves into a big, wide saucepan and simmer until the liquid has reduced by about half. Set aside for 10 mins to infuse.
Strain through a fine sieve into a big bowl and discard the peppercorns, bay leaves and fennel seeds. Slice the chillies and reserve.
Add the cabbage and sliced chillies to the bowl with the pickling liquor and stir well. Pop the cabbage mixture into sterilised jars and seal. The pickled cabbage will last for a month in the fridge.
Chef's Tip: For a more classic, less spicy version, simply leave out the chilli and fennel seeds.
How to Sterilise your jars:
Sterilising jars is a must to keep your cabbage free from bacteria. Wash the jars well in hot soapy water, rinse and place face down on a baking sheet. Hanlding carefully, put the jars into the oven for 15 minutes at 160-180°c. Fill with the cabbage whilst jars are still warm.