Baby Baked Alaska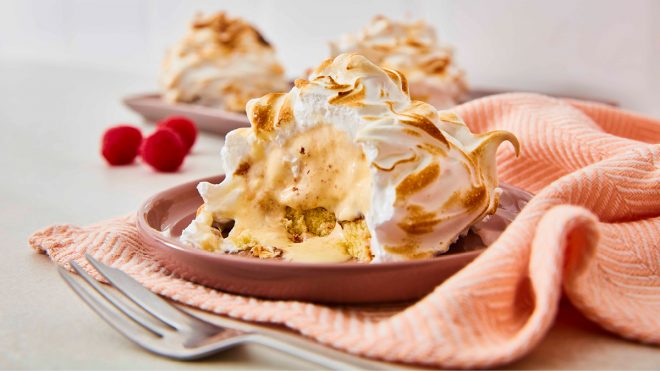 4 servings
1 hour to prepare
Ingredients
2 scoops Booths Raspberry Ripple Ice Cream
2 scoops Booths Caramel Fudge Ice Cream
4 slices of Madiera sponge (shop bought)
2 tsp raspberry jam
2 tsp Nutella
For the meringue
75g egg whites (about 2)
150g caster sugar
Instructions
METHOD:
Pre-heat the oven to 180°C (fan) / 200°C / gas mark 6.Then scoop your ice cream into balls and return them to the freezer to go hard for 1 hour.
Cut 4 even slices of Madeira cake with a round pastry cutter making sure the cake discs are big enough for the ice cream balls, place onto a non-stick baking tray.
On two slices of cake spread 1 tsp jam on one side. On the other two slices of cake spread 1 tsp on Nutella on one side. Place in the freezer whilst making the meringue.
For the meringue, in a clean bowl whisk the egg whites with 1/3 of the caster sugar until soft peaks form, keep whisking and add 1 dessert spoon of caster sugar every 30 seconds until all the sugar is incorporated and the meringue is thick and glossy.
Remove the slices of cake and ice cream balls from the freezer, quickly place the raspberry ice cream on the raspberry jam covered slices of cake and the caramel ice cream onto the Nutella covered slices of cake.
Pipe or spread the meringue over the ice cream and sponge, making sure it's fully covered with no gaps. Once they are all covered place in the hot oven and bake for 5 minutes.
Remove from the oven and serve immediately. The meringue will be cooked and the ice cream will still be cold and perfectly soft.