Ice Cream Bread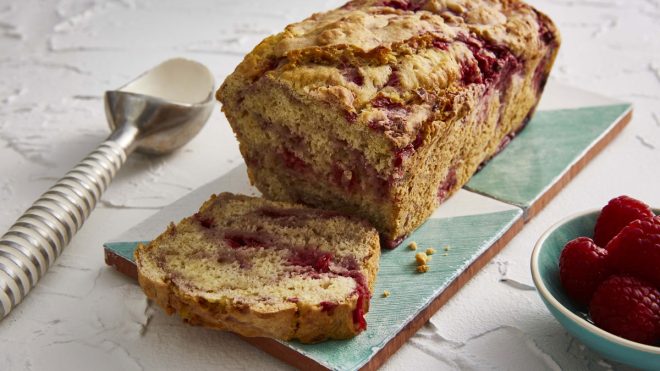 10 servings
50 minutes to prepare
Ingredients
300g Booths vanilla ice-cream, slightly softened
240g self rasing flour
150g raspberries
Instructions
The easiest bake in the world that's lots of fun to make with the kids, with a very surprising ingredient – ice cream.
Pre-heat the oven to 160°C (fan)/350°F/gas mark 4.
Line a 1lb loaf tin with baking paper.
Place the ice cream into a mixing bowl, add the flour and mix to combine.
Fold in the raspberries taking care not to over mix.
Spoon the mixture into the prepared tin, level and bake for 45 minutes.
To check the loaf is cooked insert a skewer into the centre, it should come out clean when cooked.
Remove and allow to cool completely before removing from the tin.
Slice and enjoy!
Chefs Tip
You can change the ice cream flavour in this recipe, just make sure you use full fat ice cream. Why not spread slices with peanut butter or chocolate spread and top with sliced banana for an indulgent snack.