Pork Soup Dumplings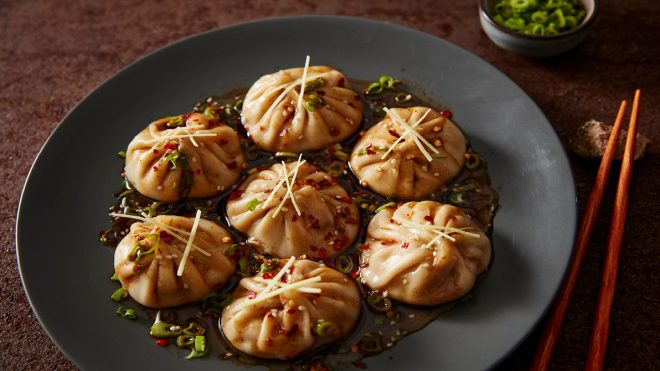 4 servings
1 hour to prepare
Ingredients
1x True Foods Beef Stock
For the dough
150g plain flour
125ml boiling water
1 tsp salt
For the filling
200g pork mince
1/4 tsp five spice
1 tbsp spring onions, thinly sliced
1 clove garlic, crushed
1 tsp fresh ginger, minced
1/4 tsp chilli flakes
1/4 tsp salt
1/4 tsp pepper
To Cook
A few Chinese or regular cabbage leaves
To serve
A good quality soy sauce
Sesame Oil
1/2 lime
Ginger, sliced into matchstick sized pieces
2 spring onions, chopped
1 red chilli, finely sliced
1 tsp sesame seeds
Instructions
METHOD:
Reduce the beef stock by rapidly boiling, until you have half the volume. Cool and place in the fridge to set to a fim gel.
Dice the cold beef stock into 5mm cubes and keep cold.
Add the boiling water to the flour and salt, mix together until you have a dough.
Knead for about 5 minutes until smooth, place in a bowl, cover with cling film and rest in the fridge for 30 minutes.
Place all the filling ingredients into a bowl with the diced beef stock and carefully mix together making sure the diced beef stock doesn't get too squashed. As the filling cooks in the dough, the stock will melt and for the soup part of the soup dumplings.
Remove the dough from the fridge and cut into 12 even pieces.
Roll the dough into balls and roll out with a little flour to form thin discs.
Place a soonful of the filling mix in the centre of the disc of dough and wrap the dough around the filling, pinching and pleating at the top to seal the pastry. This comes easier with practice.
Once you have finished making the dumplings, place a few leaves of cabbage into a steamer and place the dumplings onto the cabbage. Place the steamer onto a saucepan of simmering water and steam with the lid on for about 8 minutes.
To serve, drizzle soy sauce, sesame oil and a good squeeze of lime around your dumplings. Decorate with matchstick sized slices of ginger, chopped spring onion, finely sliced red chilli and sesame seeds.
Be careful eating the dumplings as they are hot. Carefully bite the top open and then drink the soup after a few seconds. Eat the dumpling, dipping it in the sauce.