Southern Fried Chicken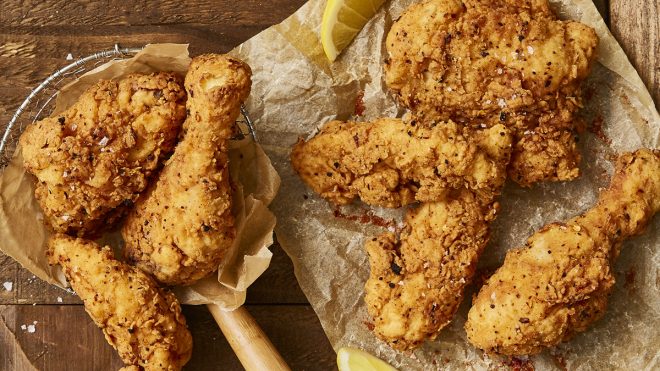 4 servings
35 minutes to prepare
Ingredients
Dry Ingredients
4 tbsp. Piri Piri spice mix
300g Plain flour
1 tsp. Baking powder
2 tsp. Salt
1/2 tsp. Pepper
Wet Ingredients
250ml Whole milk
250g Natural yoghurt
Chicken Pieces
4 Chicken thighs, bone in skin removed
4 Chicken legs, bone in skin removed
4 Chicken mini fillets, skin removed
To Fry
3 litres Vegetable oil
Instructions
Southern Fried Chicken is a classic South American dish, try our quick and easy recipe for a  tasty treat this summer!
Method
Place the dry ingredients into a large bowl and mix well.
Whisk the milk and yoghurt in a large bowl.
Coat each chicken piece in the flour mix.
Dip each chicken piece into the milk mixture then toss again in the flour mixture to coat.
Pre-heat the oven to 150°C (fan)/325°F/gas mark 3.
Heat the vegetable oil in a large heavy based pan to approximately 180°C. Fry the coated chicken pieces in batches for 7-8 minutes or until crisp, golden and cooked through. Drain on kitchen paper before placing in the pre-heated oven to keep warm.
Chef's Tip
Make a quick Piri Piri dip to serve with your Southern chicken by mixing together 1 teaspoon Piri Piri spice mix, 4 tablespoons of yoghurt and 1 teaspoon of lemon juice. Swap the chicken pieces in this recipe for 8 chicken mini fillets and use to make crispy chicken burgers or add to a Caesar salad.