Jessica Widd's Festive Grasshopper Pie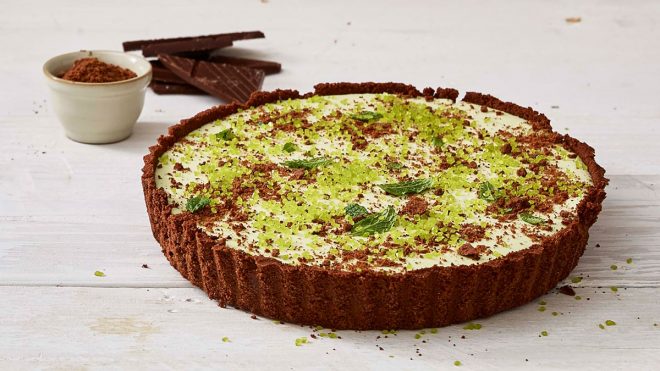 8 servings
1 hour plus chilling time to prepare
Ingredients
For the Base
300g bourbon biscuits
100g butter
50g Lindt Mint Dark Chocolate
1tbsp vanilla bean paste
For the Filling
150g marshmallows, chopped if large
120ml whole milk
375ml double cream
4tbsp creme de menthe
4tbsp creme de cacao white, or alternatively Bailey's will work, but will add colour to the mix
2-3 drops green food colouring
To Decorate
50g Lindt Mint Dark Chocolate
A few mint leaves
Edible green sparkles
Instructions
We asked our colleagues to participate in a Christmas Bakeoff this year and showcase their festive desserts, our winner was this fabulous grasshopper pie from colleague Jessica Widd. A refreshing, light but playful dessert that goes down perfectly with a drizzle of pouring cream and a Christmas evening of James Bond.
Make one large tart, or 8 individual ones.
Grease a shallow tart dish or eight tart dishes with a little bit of oil or a small amount of butter, make sure your chosen dish has a lifting bottom.
Grab a rolling pin and smash up the bourbon biscuits and place into a heatproof bowl.
Next melt the butter in a pan over a medium heat and pour it in with the biscuits, the vanilla paste, and the broken-up chunks of chocolate. Mix everything together until the mixture is smooth and sticky and the chocolate has melted in. Line the dish with the mixture to create the base, make sure to press the mixture into the sides and until it is even everywhere. Place the base into the fridge to chill and firm up.
Meanwhile, in a pan, put the milk and the marshmallow pieces over a low heat and let the milk foam (avoid boiling it) and allow the marshmallow to melt into the milk, remove the smooth mixture from the heat and into a heatproof bowl when the marshmallows have completely disappeared. Add in the crème de menthe and the creme de cacao white (or Bailey's), mix into the marshmallows and allow it to cool.
In another heatproof bowl, whisk the double cream until it can hold soft peaks. Continuing gently whisking, add the cooled marshmallows into the cream and fold together. Make sure that the mixture is soft, not hard or dry. Add in a smattering of the colouring until you are happy with the colour.
Take out the pie  base or tart bases from the fridge and fill with the mixture. Place the pie or tarts back into the fridge and let them set for a few hours until the minty marshmallow mixture has settled firmly.
Before you are ready to serve, break up the rest of the chocolate and prepare the mint leaves then decorate the dessert however you wish, remember to sprinkle the green sugar over the top to make it sparkle. Serve with a little shake of pouring cream or chocolate sauce, or even icing sugar.