Potato and Apple Cakes with Leftover Roast Pork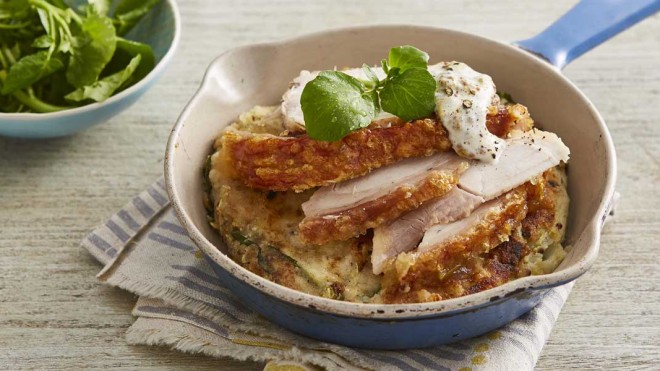 4 servings
35 minutes to prepare
Ingredients
500g mashed potato
100g savoy cabbage, shredded and cooked
50g apple sauce
2tsp wholegrain mustard
Salt & pepper
Flour for dusting
1tbsp butter
1tbsp olive oil
For the Dressing
100g creme fresh
2tbsp wholegrain mustard
1tsp lemon juice
Salt & pepper
To Serve
4tbsp apple sauce
200g leftover roast pork and crackling
Watercress and lemon wedges to garnish
Instructions
This recipe is ideal for using up any leftover roast pork you might have after a roast dinner, it's perfect for a homely lunch.
Pre-heat the oven to 180°C (fan)/400°F/gas mark 6.
To make the potato cakes, mix the mashed potato, savoy cabbage, apple sauce and mustard in a bowl and season well.
Divide the mixture into 4 equally sized portions, dust flour onto the work surface and form into patty shapes approximately 2 cm thick. If your mix is sticky add more flour to help shape the potato cakes. Place on a baking try and chill for 10 minutes.
Heat the butter and oil in a large non-stick frying pan. Cook the potato cakes for 5 minutes on each side. You may need to do this in batches.
Place the potato cakes onto an oven tray lined with baking paper and place in the pre-heated oven for 5 minutes.
To make the dressing, mix the crème fresh, mustard and lemon juice in a small bowl. Season to taste.
To assemble, top each potato cake with a tablespoon of apple sauce, layer slices of leftover roast pork and crackling and drizzle over the dressing. Garnish with watercress and lemon wedges.
Chefs Tip
If you are using leftover roast beef use horseradish sauce in the potato cake mix and swap the wholegrain mustard in the dressing for horseradish sauce.
Love your Leftovers
If you are going to store leftover roast to make this recipe, cool it as quickly as possible (ideally within 90 minutes) cover it and place into the fridge. Always use your leftovers within two days of storage. Ensure you cook this recipe until it's steaming hot throughout and importantly, never reheat leftovers more than once.
The optimum time and temperature varies by individual ovens – these are guidelines only. Please ensure all cooked recipes are served piping hot. Keep raw meat separate from cooked food. Use separate kitchen utensils and surfaces for raw and cooked foods, or wash thoroughly in between use. Wash hands after handling raw meat. 
Some products may only be available in our larger stores. All content © Booths 2017.