Slow Cooker Sausage Casserole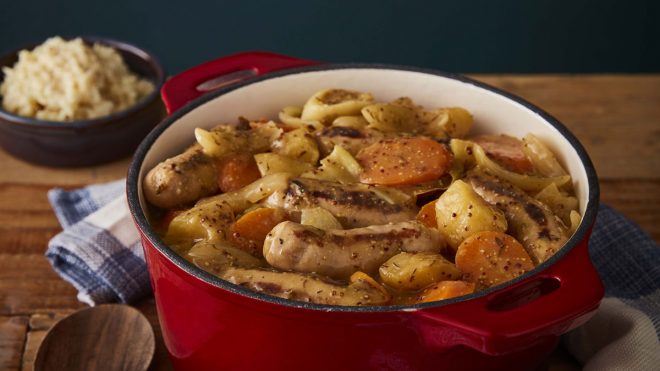 2 servings
2-3 hours or overnight to cook, 10 minutes to prepare
Ingredients
6 Booths sausages, we chose pork & apple
2 medium carrots, peeled and chopped
1 leek, chopped
1 gala apple, peeled, cored & chopped
1 large onion, finely chopped
1tbsp flour
1tsp dried thyme
1tsp wholegrain mustard
500ml chicken stock
1 medium potato, peeled and cut into chunks
Instructions
Low and slow overnight is the perfect way to cook this tasty sausage casserole.
Method
Lightly fry the sausages in oil to colour them, they don't need to be cooked through. Remove from the pan and set aside.
With the pan on a medium heat, add the onions and cook for 3-4 minutes to soften slightly, then add the leeks and carrots and cook for a further 3-4 minutes. Add the flour to the pan, make sure all the vegetables are coated cook for 30 seconds, being careful not to burn the mixture.
Add the apple and the stock, thyme and mustard, stir well to get rid of any lumps of flour then bring to a simmer until it has thickened slightly.
Transfer to a slow cooker, add the potato and browned sausages then cook on medium for 2-3 hours, or on low overnight.