Chicken Soup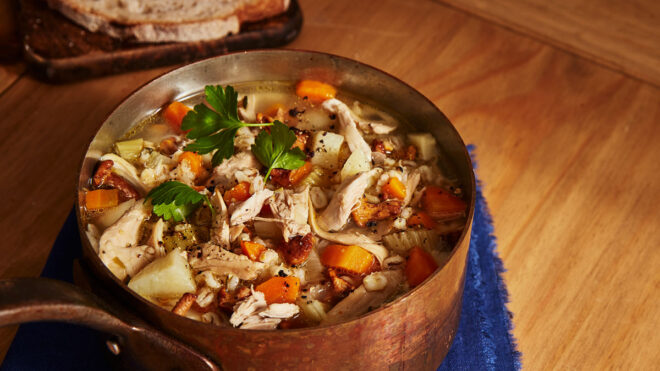 6 servings
10 mins to prepare
Ingredients
3 chicken thighs, skinned and deboned
2 litres of water
50g wild mushrooms, cleaned
1 medium onion, diced
1 clove garlic, crushed
2 large carrots, diced
1 small parsnip, diced
2 celery sticks, finely chopped
2 bay leaves
5 black peppercorn
1 tsp salt
1 large potato, diced
1/2 - 1 cup pearl barley
Fresh parsley, chopped
Salt & ground black pepper
Instructions
Our version of a hearty Polish Krupnik soup.
METHOD
Add the chicken thighs and water to a large pot and bring to a boil. Simmer for 30 minutes while preparing the mushrooms and dicing the vegetables. Skim off any foam and discard.
Add the wild mushroom, onion, garlic, carrots, parsnip, celery, bay leaves, peppercorns, and 1 teaspoon salt to the pan. Simmer for an hour.
Add the potato and pearl barley. Simmer until they are tender, about 20–30 minutes. Carefully remove the chicken thighs, shred the meat, and return to the soup. Taste and add salt and pepper to your liking. Garnish with the chopped parsley.
Chef's tip: Pearl barley will keep absorbing the liquid, so you may need to add more water if you're not eating the soup straight away.