Pan Fried Meagre in Lemon & Thyme Citrus Butter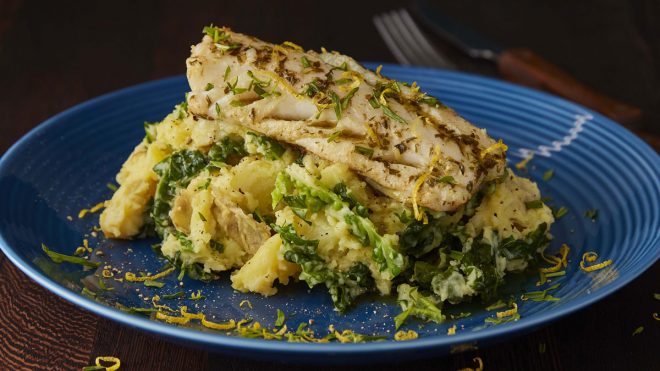 4 servings
30 minutes to cook, 10 minutes to prepare
Ingredients
For the colcannon
750g potatoes, well scrubbed
100g butter
1 small savoy cabbage, shredded
150ml double cream
For the fish
4 meagre fillets, pinioned
200g butter
2tbsp olive oil
1 large bunch lemon thyme
2 lemons, zest and juice
Cracked black pepper and seasalt
Instructions
Meagre is a white fish with quite a firm texture, with a moist and tasty flavour. This classic simple supper dish is the perfect way to appreciate it.
Method
For the Colcannon
Preheat your oven to its warm setting – this is to hold the colcannon once cooked so the fish can be prepared so choose the temperature according to your oven.
Place the potatoes into boiling salted water and simmer until tender, this will take about 15 minutes.
While this is happening, melt 100g butter in a saucepan over a medium heat, then add half of the cabbage and cook until just tender, if it starts to colour turn the heat down. Set aside.
Peel the potatoes while they're still hot, being careful not to burn yourself.
Mash the potato until smooth. Heat the cream and remaining butter together, when nearly boiling beat into the potato. Add the buttery cabbage and hold in a warm oven while you cook the fish.
For the fish
Heat 200g butter and 2tbsp olive oil in a pan together over a medium heat.
Once melted, add the meagre fillets, season with salt and pepper.
Then add the lemon juice, lemon zest and lemon thyme.
Baste the fish fillets with the herbed zested butter until cooked. They should just give resistance when touched but not flake too far apart. This should take 6-7 minutes.
Serve with the colcannon mash and pour the remaining butter from the pan over the top. Scatter with some torn lemon thyme and lemon zest.
Chefs tip
Feel free to substitute another firm, white fish if you can't get hold of meagre.
Use the remaining cabbage in bubble and squeak with smoked bacon.