A Vast Variety of Christmas Veggies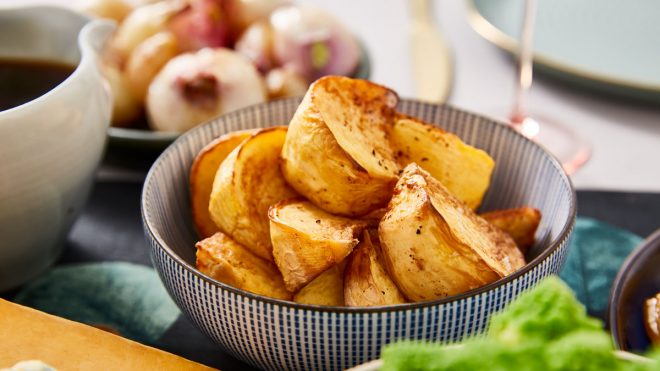 6 servings
Various time to prepare
Instructions
We've asked some of our buyers, experts and suppliers for some veggie insider tips to make things as easy as possible for you on the big day.
PERFECT ROAST POTATOES
Use a good floury variety of potato, we would suggest a Maris Piper, King Edward or any variety of red potato. Preheat the oven to 200c, and place a couple of tablespoons of goose or duck fat into an oven dish. Peel and chop your potatoes, then parboil them so they're slightly soft. Near the end of the cooking time pop the oven dish in to heat the fat to smoking hot. Drain off the water from the potatoes then score them with a fork to keep them fluffy. Pop into the oven dish, then cook until they're golden and crunchy. For an extra Christmassy flavour, add sprigs of fresh rosemary or sage and a clove of garlic.
BEST MASHED POTATOES
First peel your potatoes, we suggest you choose King Edwards, then place them in a pot of salted water. Bring to the boil, reduce the heat and simmer for 20 minutes. Drain the water and allow to sit in the colander for a few minutes to dry off. Place the potatoes into a bowl and mash with a generous dollop of butter and a dollop of cream. Season well.
For something more luxurious we like to add a little truffle oil to the mix, or alternatively mash in some roasted garlic cloves with a handful of grated parmesan.
SPICED SEASONAL GREENS
Cabbage, seasonal greens, kale or cavolo nero are all good staples. If you're looking for something a little different, here's a handy hint that will spice up these greens for the Christmas table. First, you have to blanche your veggies as you usually would. Heat some olive oil in a large frying pan. Then add a little finely chopped root ginger and garlic and cook for just 1 minute. Stir in a few tablespoons of yellow mustard seeds or caraway and cumin seeds. Next add the greens into the mix, stir fry for a minute, and finish off with a squeeze of fresh lemon juice.
CARROT & BUTTERNUT SQUASH MASH
Peel then roast a large butternut squash with carrots, sage leaves, chilli flakes and garlic. Once tender and golden, remove the vegetables from the oven and simply mash everything together with a dash of crème fraîche.
Alternatively, cook up a delicious cauliflower cheese and potato mash. Simply boil floury potatoes and cauliflower florets for 20 minutes, drain and then mash them together with Dijon mustard, crème fraiche and a mature Cheddar cheese.
ROASTED BEETROOT
Beetroot isn't a typical Christmas dinner vegetable but it's in season in December and its sweet, melting taste goes perfectly with turkeys or geese. Clean then top and tail about 600g of whole raw beetroot then cut into wedges. Next toss in a roasting tin with wedges of red onion. Drizzle with 2 tablespoons balsamic vinegar, 2 tablespoons olive oil, 2 tablespoons clear honey and a good handful of fresh thyme leaves, roughly chopped. Season with sea salt and ground black pepper and roast for about 25 – 30 minutes until the beetroot is tender and sticky.
CLASSIC BOILED SPROUTS
Boil the sprouts uncovered for around 8 minutes. Test with a sharp knife and if goes in easily they are ready. Drain well and then quickly add to a bowl of iced water. This will stop them cooking further, preventing that smell of boiled sprouts filling the kitchen. When you want to serve them, simply bring another pan of water to the boil, add the sprouts and cook for just a minute to heat. Drain and season with butter, salt and pepper.
For something different we like to sauté the blanched sprouts in olive oil, cooking them until golden, stirring every so often with some chopped up smoked bacon or pancetta with a little onion and garlic to give a great flavour.
BABY ONIONS
Ingredients:
500g baby onions, peeled
75g butter
30g sugar
1 sprig thyme
Pinch of salt
Place all the ingredients in a thick bottomed pan and just cover with water. Bring to a simmer. When the water has all evaporated, reduce to a low-medium heat and allow the onions to caramelise, moving them regularly to create an even colour. We highly recommend using pickled onions to save time, just follow the same steps without the water.