Squash, Kale & Goats Cheese Tart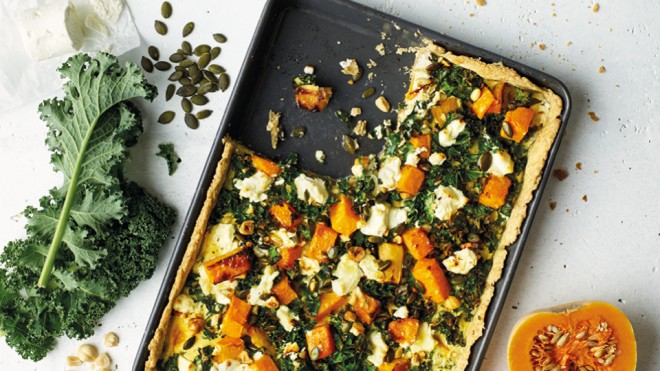 6 servings
55 minutes to prepare
Ingredients
For The Pastry
100g plain flour
100g wholemeal flour
1tsp mustard powder
100g butter
For The Filling
1tbsp rapeseed oil
1 small butternut squash, cubed or 500g prepared squash
30g blanched hazelnuts, chopped
3tbsp pumpkin seeds
150g kale, shredded
4 large free range eggs, lightly beaten
3tbsp creme fraiche
150g soft goats cheese
Instructions
1 Preheat the oven to 200°C / fan 180ºC / gas mark 6 and put a large baking tray in the oven to heat up. Place the butternut squash in a roasting tin with the rapeseed oil and toss together well. Roast for 15 minutes then add the hazelnuts and pumpkin seeds and roast for a further 5 minutes. Remove from the oven and set aside.
2 For the pastry, mix together the flours, mustard powder and a pinch of salt. Add the butter and rub into the flour until the mixture resembles breadcrumbs. Add 2-3 tablespoons of ice cold water gradually stirring with a knife until it starts to form dough.
Knead it lightly into a ball then wrap in cling film and allow to rest for
15 minutes.
3 Roll out the pastry to fit a 30×20 cm shallow Swiss roll tin. Scatter the squash, hazelnuts and pumpkin seeds over the pastry base along with the kale. Mix together the eggs and crème fraîche and pour over the top. Sprinkle over the goats cheese and place in the oven on the hot baking tray (this will ensure the pastry cooks underneath) and bake for 20 minutes until set and golden.