Roasted Veg & Stilton Pie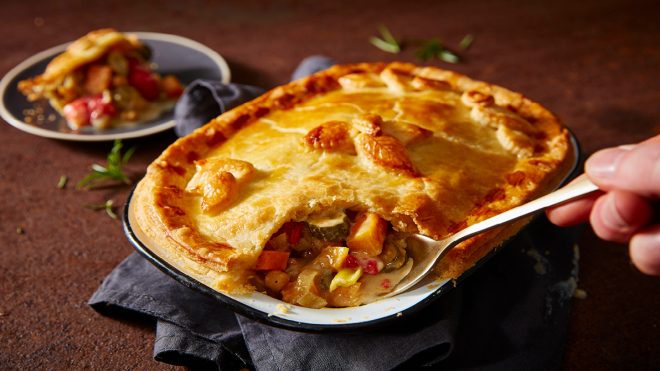 6 servings
30 minutes, 40 minutes to cook to prepare
Ingredients
1 butternut squash, peeled and cubed
2 sweet red peppers cut into small cubes
1 leek cut into rings
1 tin of chickpeas, drained and rinsed
500g of shortcrust pastry
1 onion diced
450ml of vegetable stock
30g butter
30g flour
200g of Stilton
Sprig of rosemary
Drizzle of olive oil
Salt and pepper
1 beaten egg for egg wash
Instructions
METHOD:
Preheat the oven to 200°c / 180°c fan / gas mark 6.
Place the squash, leeks, red pepper and chickpeas on a roasting tray, drizzle with olive oil, salt, pepper and rosemary, then roast for 30 mins.
Sauté the onion in a pan with the butter until softened.
Add the flour and cook off for one minute.
Add the Stilton and stir until melted.
Mix the sauce with the roasted veg and vegetable stock and set aside to cool.
Roll out 300g of the pastry on a floured surface, then line the base of a pie dish, leaving a lip all round to stick the lid to.
Place the filling into the pastry lined pie dish. Roll out the remaining pastry to make a lid. Brush on some beaten egg onto the top lip of the pastry in the tin, then pop the pastry lid on, securing by pressing the edges together all the way around. If you have any leftover pastry, make some decorations. Glaze with egg wash.
Rest in the fridge for 10 minutes.
Bake in the preheated oven for 40 minutes until golden.
CHEFS TIP:
Putting the pastry in the fridge helps to prevent the pastry shrinking when baking.