Earl Grey Tea Scones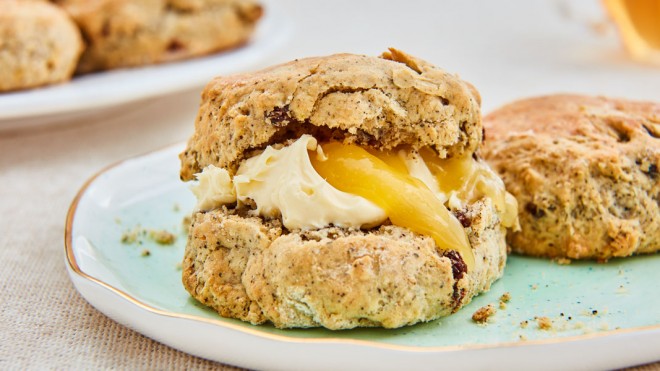 12 servings
40 minutes to prepare
Ingredients
75g raisins
4 Earl Grey teabags
225g self raising flour
75g caster sugar
1/2tsp baking powder
1/4tsp salt
50g butter, chilled and cubed
1 lemon, zest only
125ml milk
flour for dusting
1 egg, beaten
1tbsp demerara sugar
To serve
Lemon curd
Whipped cream
Instructions
A tea-rrific way to enjoy a spot of Earl Grey.
Pre heat the oven to 200°C (fan)/425°F/gas mark 7.
Place the raisins and 1 earl grey tea bag in a small bowl. Pour over 100ml of boiling water, stir and allow to steep whilst you make the scones.
Place the flour, caster sugar, baking powder and salt into a mixing bowl. Add the butter and rub into the flour using your fingertips. The mix should resemble fine breadcrumbs.
Add the lemon zest and the tea leaves from the remaining 3 earl grey tea bags. Mix well.
Strain the water from the raisins and discard the tea bag. Add the raisins to the dry mix.
Make a well in the dry mix and pour in the milk. Stir to combine using a fork to bring the dough together.
Tip the dough onto a lightly floured work surface and roll to approximately 3 cm thick.
Line a baking tray with baking paper. Using a fluted cutter 5cm in diameter cut 12 scones, re-rolling the dough as needed. Place the scones onto the lined baking tray and brush just the tops lightly with a little beaten egg.
Scatter over the demerara sugar and bake for 15-18 minutes in the pre-heated oven until risen and golden brown.
Remove from the oven, allow to cool for 5 minutes before placing on a wire cooling rack to cool completely.
Serve with lemon curd and whipped cream.
Chefs Tip
Why not make this recipe your own and use your favourite tea? Lady Grey and Chai work well in this recipe.