Cauliflower, Squash and Chickpea Curry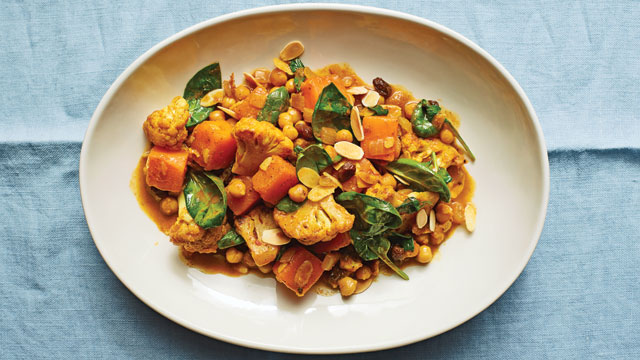 4 servings
55 minutes to prepare
Ingredients
1 tbsp sunflower oil
1 large onion, finely chopped
350g cauliflower florets
1 tbsp curry paste of your choice
300g butternut squash, peeled and cut into large chunks
35g raisins
500ml vegetable stock
Juice of 1/2 lemon
400g can of chickpeas, drained
200g baby spinach leaves
To Serve 25g toasted flaked almonds Chapattis
Instructions
This is a lighter and less oily vegetable curry than those you tend to get in restaurants. It's delicious served with chapattis for a quick midweek supper.
Preparation time 20 minutes
Cooking time 35 minutes
1. Heat the oil in a large saucepan over a medium heat. Add the onion and cauliflower cook for 6–8 minutes until star ting to turn golden and soften. Stir in the curry paste and cook for a few minutes.
2. Add the butternut squash, raisins and stock, then cover with a lid and gently cook for 15–20 minutes, stirring occasionally, until the cauliflower is tender and the sauce thickened.
3. Stir in the lemon juice, chickpeas and spinach and cook for a further 2–3 minutes.
4. Serve sprinkled with the almonds and accompany with chapattis.