Butternut Squash, Peppers, Cheese & Beans Pasty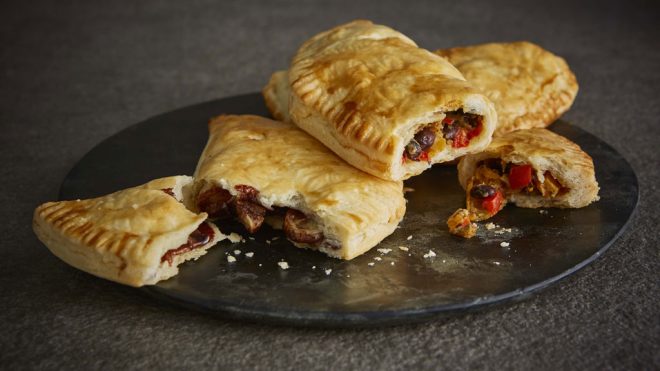 4 servings
30 minutes to cook, 15 minutes to prepare
Ingredients
2 large red peppers, finely sliced
2 large red onions, finely sliced
1 butternut squash, finely diced
250g mature Cheddar, grated
1 tin kidney beans, drained
1 egg, lightly beaten to glaze
Salt & Pepper
For the Sweet Section
1 jar rhubarb & ginger jam
1 jar stem ginger in syrup, finely sliced
Instructions
Our meatfree take on a traditional tin miner's style pasty, which contains both a sweet and savoury section – a whole meal in one.
Preheat the oven to 200c / 400f / gas mark 6
Unroll the pastry and using a small side plate as a guide cut out four discs of pastry.
Bear in mind, you will only be placing filling onto one half of the disc, the other side will close over the top. Cut a small oblong of pastry from the leftover scraps, brush a little milk on one edge and stick to the pastry disc on the side you will add the fillings to, to divide that half into 2/3 and 1/3 – it will keep the savoury and sweet sections apart.
As you add the fillings, remember to leave a gap at the edge of the pastry so you can close and seal it. Divide the veggies, beans and cheese evenly between the pasties.
In the sweet side of the pasty, add a dollop of the jam and scattter with diced ginger.
Brush with the beaten egg along the edge, then close the pastry over both fillings to form a pasty shape.
Carefully crimp the edges together with a fork and glaze with beaten egg. Pierec some air holes into the top of the pastry to allow steam to escape.
Bake for 30 minutes until golden and cooked through.