Stilton & Bacon Soup with Cheese & Garlic Slices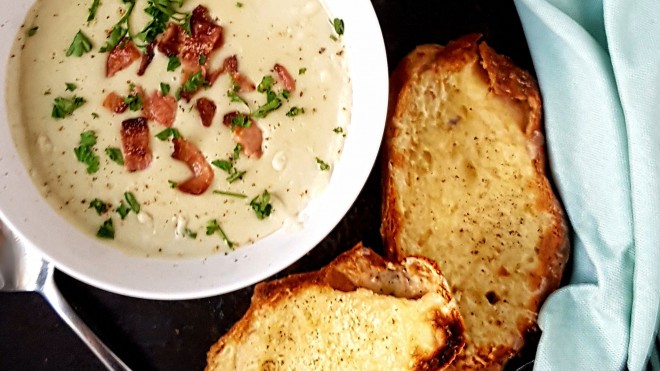 4 servings
30 minutes to cook, 10 minutes to prepare to prepare
Ingredients
700g Maris Peer potatoes
120g stilton
2 medium leeks
1 litre chicken stock
70ml single cream
3 slices Booths Smoked Back Bacon
20g butter
1 bay leaf
1 small bunch Booths curly parsley (chopped)
Salt & pepper
Cheese & Garlic Slices
1 cob crown loaf (or similar crusty white bread)
100g Booths Lancashire Cheese
1 clove garlic, peeled
Instructions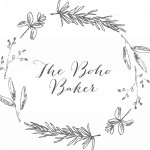 The Boho Baker describes herself as "Baker. Writer. Forager. Wanderer. Organic ingredient and edible floral Enthusiast. Member of the Guild of Food Writers." Very local to our HQ in Preston, she's kindly agreed to do a series of recipes for us, celebrating the best of our local produce. Follow her on instagram @thebohobaker.
The epitome of comfort food: creamy stilton, smoked bacon and Maris Peer potatoes, blended together to create a creamy, homely soup. Perfect with a couple of cheese and garlic crown cob slices for dipping.
Method:
Peel the potatoes and chop into small pieces (approximately 1" wide). Top and tail the leeks before slicing into pieces no wider than a £1 coin.
Heat the butter in a saucepan. Add the potatoes, leeks, and bay leaf before seasoning with salt and pepper. Place a lid on the pan and leave the vegetables to soften on a low heat for ten minutes. Stir intermittently to avoid any sticking.
Whilst the vegetables are softening, grill three rashers of bacon until crispy and golden. Once cooked, chop the bacon into small pieces and set aside.
After ten minutes, add the chicken stock, increase the heat, and simmer for a further ten minutes, or until the potatoes are soft. Turn the heat back down, remove the bay leaf, and add the cream and stilton. Gently stir until the cheese has fully melted.
Using a stick blender or food processor, carefully blend until the soup is silky and smooth. Pour back into the pan and leave on a low heat.
Slice the cob crown and place under the grill until one side is golden. Remove from the heat and rub the peeled garlic clove on the untoasted side. Sprinkle with Lancashire cheese and then place back under the grill until the cheese is happily bubbling away.
Ladle the soup into a bowl and sprinkle with bacon and chopped parsley. Serve with the garlic cheese dipping slices and enjoy.
Hints/Tips/Troubleshooting:
You can leave out the bacon for a quick and easy vegetarian supper.
This is a very sturdy soup that can handle additional flavours with ease. Why not try adding mushrooms or a little chilli?
This soup freezes exceptionally well. Pour any excess into a plastic container and freeze for a quick lunch in future.