Parmesan & Truffle Fries Recipe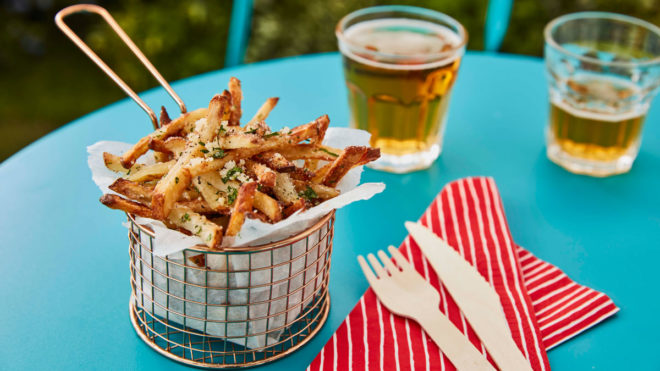 4 servings
5 mins to prepare
Ingredients
500g Maris Piper potatoes
50ml vegetable oil
1 tsp salt
40g Parmesan cheese, grated
1 tsp truffle oil
5g flat leaf parsley, chopped
Black pepper
Instructions
Method:
1 Pre-heat the oven to 200ºC (fan)/220ºC/425ºf/gas mark 7. Slice the potatoes into fries approximately 3/4cm thick.
2 Place the fries into a bowl. Cover with boiling water and allow to stand for 10 minutes.
3 Drain the fries and pat dry on kitchen roll. Pour the vegetable oil over the fries and season with salt.
4 Line a baking tray with baking paper, tip the fries onto the baking tray and spread to form one layer.
5 Bake in the pre-heated oven for 45 minutes or until golden and crisp.
6 Tip the cooked fries into a bowl then add the Parmesan cheese, truffle oil and chopped parsley. Toss to coat.
7 Season with black pepper and serve.