The Boho Baker's Lancashire Macaroni Cheese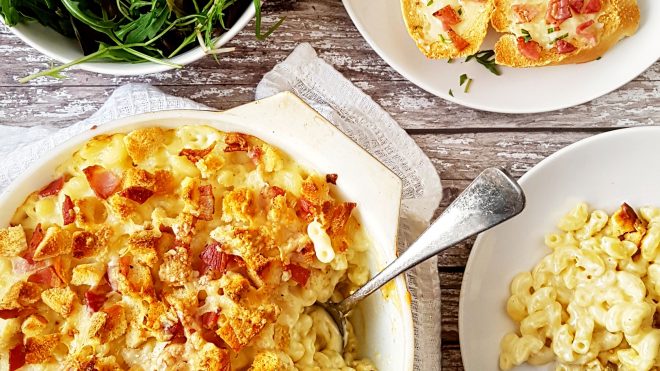 4 servings
50 minutes to prepare
Ingredients
350g Booths macaroni
200g Booths Tasty Lancashire Special Reserve Cheese
150g Booths Raclette cheese
50g Booths ready grated Parmesan cheese
1 Booths white baguette
3 rashers Booths smoked bacon
500ml whole milk
2 garlic cloves
2tbsp butter
3tbsp plain flour
Drizzle olive oil
Fresh rocket / salad leaves to serve
Instructions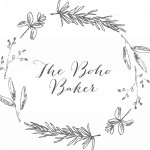 The Boho Baker describes herself as "Baker. Writer. Forager. Wanderer. Organic ingredient and edible floral Enthusiast. Member of the Guild of Food Writers." Very local to our HQ in Preston, she's kindly agreed to do a series of recipes for us, celebrating the best of our local produce. Follow her on instagram @thebohobaker
The ultimate nursery food, this easy and oh so cheesy Lancashire macaroni will easily feed a family of four. The gooey richness of the Lancashire Special Reserve and Raclette cheeses give this dish a fondue like consistency, whist retaining the familiarity and comfort of the traditional dish.
Method
Preheat your oven to 200C/180C (fan)/Gas Mark 6.
Cut off one third of the baguette and slice into relatively small pieces. Drizzle some olive oil on a baking sheet, add the chopped baguette, and bake in the oven for five minutes to crisp. Set aside to cool.
Grill the smoked bacon until slightly crisp. Chop into small pieces using a pair of kitchen scissors.
Bring a pan of slightly salted water to the boil. Reduce the heat, carefully add the pasta, and the bring the pan to a simmer for 6-8 minutes, or until the pasta is tender. Drain and set aside.
Melt two tablespoons of butter in a pan over a gentle heat. Chop one of the garlic cloves and cook in the butter for one minute. Stir in the flour, and cook for one minute more. Add the milk and stir continuously until the mixture is free of lumps. Simmer for 5 minutes until thick and creamy.
Remove the pan from the heat and stir in the Lancashire and Raclette cheese. If it doesn't melt completely, pop the pan back on a low heat and stir continuously until well combined.
Add the sauce to the pasta and pour into an ovenproof dish. Top with the toasted baguette croutons, half of the parmesan cheese, and half of the chopped bacon. Bake in the oven for 20 minutes.
Whilst the pasta is baking in the oven, slice up the remaining two thirds of the baguette in thick rounds. Pop them under a medium grill, checking every 30 seconds to ensure they don't burn. Remove from the heat when golden and crisp. Flip the slices of baguette over, and rub the remaining garlic clove over the tops of the untoasted sides. Top with the remaining parmesan and chopped bacon, and grill until the cheese is oozing and the edges are golden. Serve alongside the macaroni cheese and a bowl of fresh, peppery rocket leaves.
Hints/Tips/Troubleshooting:
·      Whilst the macaroni cheese sets well and can be sliced up for lunchboxes, it does lose it's stringy, gooey cheesiness when reheated. As such, it's best to enjoy the majority of the dish immediately, keeping left overs to a minimum.
·      If you want to add a little more colour or flavour, try adding some sliced mushrooms or chopped tomatoes to the bread and bacon topping before you bake the pasta in the oven.